Dog Serves As Best Man In Veteran's Wedding
<p> <a href="http://www.bradhallstudios.com/Home.aspx" target="_blank">Brad Hall Studios</a> </p>
<p> <a href="http://www.bradhallstudios.com/Home.aspx" target="_blank">Brad Hall Studios</a> </p>
Gabe the service dog has stood faithfully by his owner's side through some of the toughest times, so there was no question that he'd be right there for best of times, too.
On Saturday, the sweet golden retriever served as "best man" in U.S. Army veteran Justin Lansford's wedding to his bride, Carol. The decision to pick a dog for that honored role, while perhaps a bit unusual, makes all the sense in the world after learning the impact Gabe has had on Justin's life.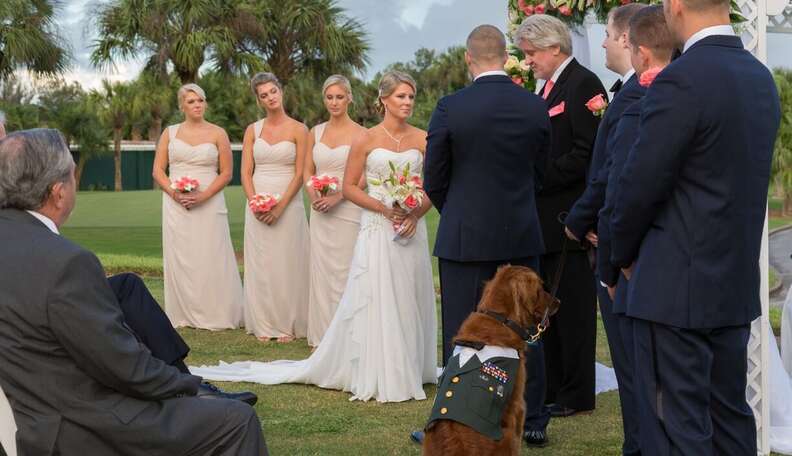 While stationed in Afghanistan in 2012, Justin had been injured when the truck he was riding in was struck by an IED, resulting in the amputation of his leg. But shortly after experiencing that indelible loss, the injured veteran gained something perhaps just as irreplaceable - a new friend to help him through it all.
Once home from combat, Justin was introduced to Gabe by folks from the Warrior Canine Connection, a nonprofit group that trains service dogs to help wounded vets. From that moment on, the pair have been inseparable.
"Gabe goes everywhere with Justin," Carol told The Dodo. "They are pretty much joined at the hip."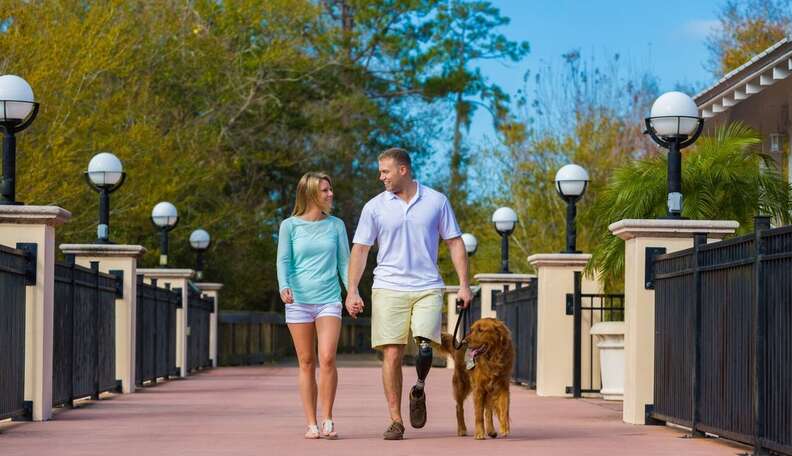 The lovable dog is more than just a pet to Justin and Carol - he's been an invaluable companion in making life easier for them both.
"He helps us every day in so many ways, especially little daily tasks," Carol said. "If Justin drops something, he's right there to pick it up for him. He opens the door for him, or helps get something out of the refrigerator. If Justin ever falls, he's always right there to help him back up. Every day he's doing something for Justin."
When it came time for her and Justin to tie the knot, Carol says it was a "no-brainer" that Gabe wouldn't only be present for the ceremony, but he'd be right alongside the groom.
During the wedding, Gabe fulfilled his duties as best man perfectly, smiling right along with Justin and Carol as they began their bright future as a happy trio.
"You can see the dog is such a huge part of their lives," wedding photographer Brad Hall told The Dodo. "He was with them as they walked down the aisle, wearing formal army attire and even a little bow tie. You can't help but love that dog."