Service Dog Needs New Home Before Dying Owner Passes Away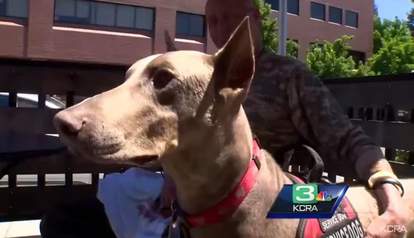 <p> <a href="https://www.youtube.com/watch?v=giFFWsMLSr8">YouTube/KCRANews</a><span></span> </p>
Update: Kerr posted on his Twitter account that he's found a new home for Kane Kane the service dog has done a lot for his human, Tristen Kerr, over the years. Now Kerr wants to do something for Kane - find him a new home.
The 62-year-old military veteran was diagnosed with a rare and deadly form of brain cancer back in March and was given only months to live, Sacramento's KCRA reports. Before he passes away, Kerr wants to find his beloved service dog a loving new home.
"I don't have much time left," Kerr told KCRA. "It's very important for me to know that he's going to have a good home."
Kane is a 7-year-old doberman pinscher who loves to make friends, take naps and go to the park. He will undoubtedly miss his dad, so Kane needs a new family who will not only give him the love he deserves but also help him recover from his loss.
"Best Dobie on the planet," Kerr posted on his Twitter account. "I love him. He loves me."
Anyone interested in helping Kane can reach out to Tristan Kerr directly here.