Senior Rescue Pug Gets Spoiled By His New Family
They even gave him an early Christmas with tons of presents
It's never too early for Christmas when you're a senior dog.
Earlier this year, animal control officers picked up a 15-year-old stray pug named Franklin and brought him to the Suffolk Animal Care Center (SACC) in Virginia. Sadly, no one came looking for him.
Casey White, a caretaker at the SACC, contacted the Mr. Mo Project, an organization in Clifton Park, New York, that fights to save senior shelter dogs nationwide. White emailed and asked if the organization would be interested in helping Franklin find a place to live out his last few years.
After receiving details and pictures of Franklin, Chris and Mariesa Hughes, cofounders of the Mr. Mo Project, were "hooked," Mariesa Hughes told The Dodo.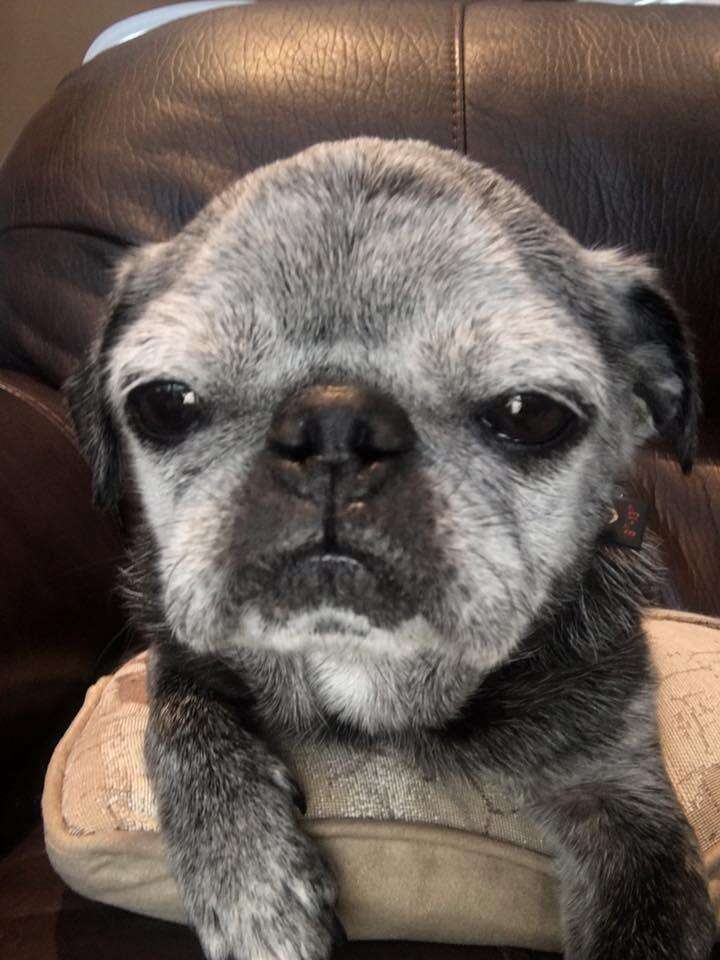 The organization, which had recently lost three of its senior foster dogs, decided to not only take him in, but to celebrate an early Christmas with Frank, despite it being February when the dog came into its care.
Friends of the Hughes family transported Franklin to their home, which they call "The Dog House," in upstate New York. When he arrived, Franklin was underweight and needed a good bath and ear cleaning, but was otherwise happy to meet the other eight dogs living at The Dog House at the time.
"We have learned that you can never take even one day for granted," wrote the Hughes on Facebook."Even though Franklin is a seemingly healthy old man, we wanted to make sure he has every experience that loved dogs have throughout their life, so we made today Franklin's First February Christmas."
Franklin's Christmas presents consisted of squeaky toys, treats, special food and even Pill Pockets. However, Franklin was most enthusiastic about his new tennis balls and a stuffed lamb toy named "Lamby," which has since become his new best friend.
"He's obsessed with it!" Mariesa Hughes said.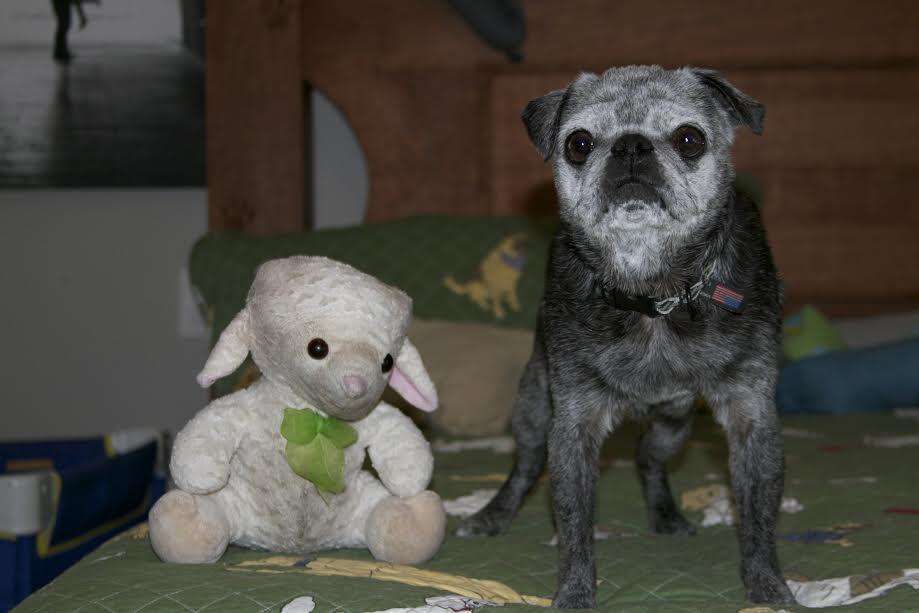 Now, Franklin is experiencing all the care and comfort a senior dog should. His foster parents are clearly smitten with him.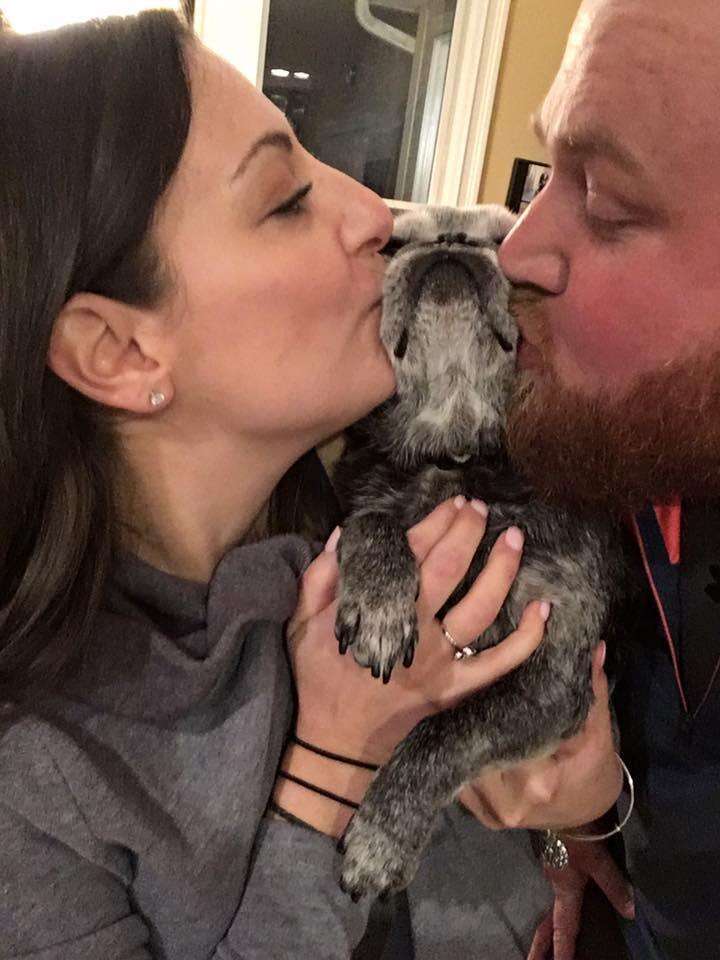 Mariesa Hughes described Franklin as her "shadow" who likes to follow her everywhere she goes. When her senior shadow gets tired while she's doing chores, she puts him in a baby carrier so he can stay with her.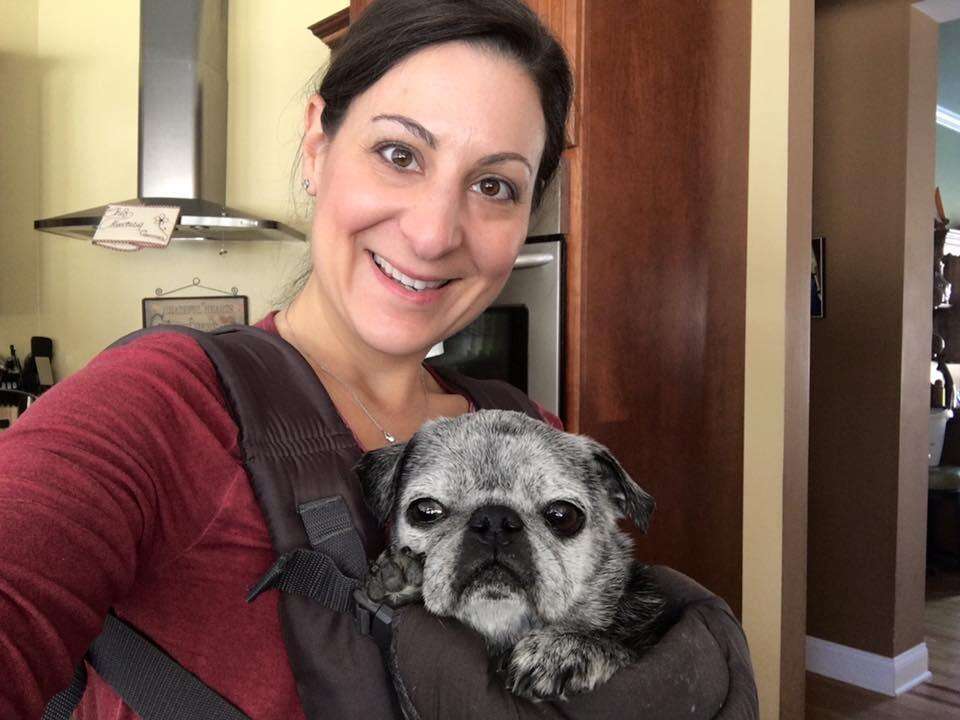 He also helps Mariesa Hughes while she works ...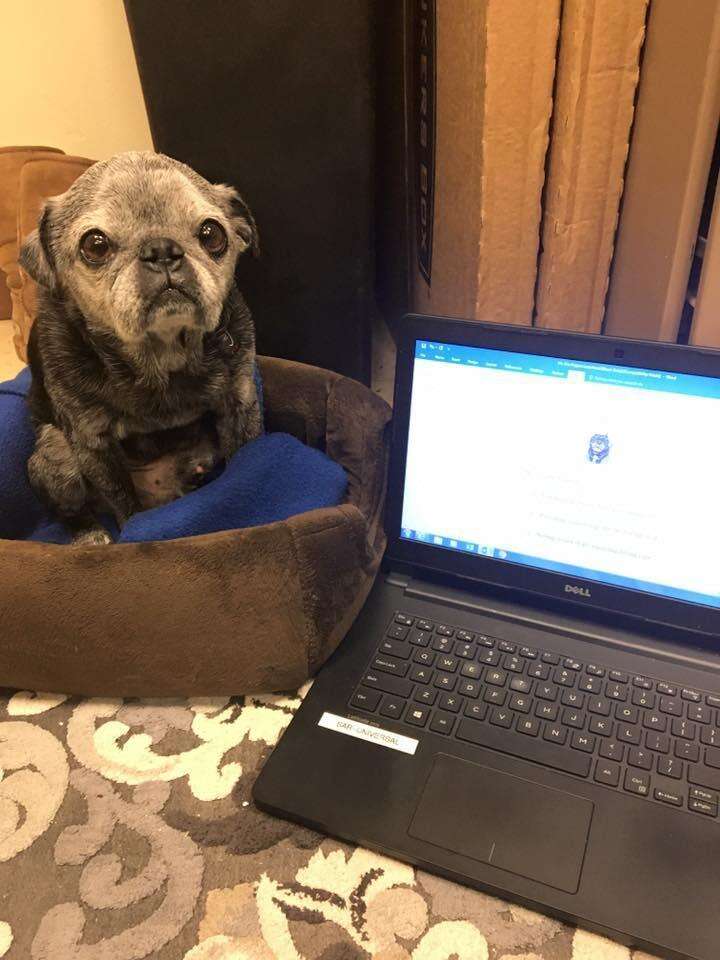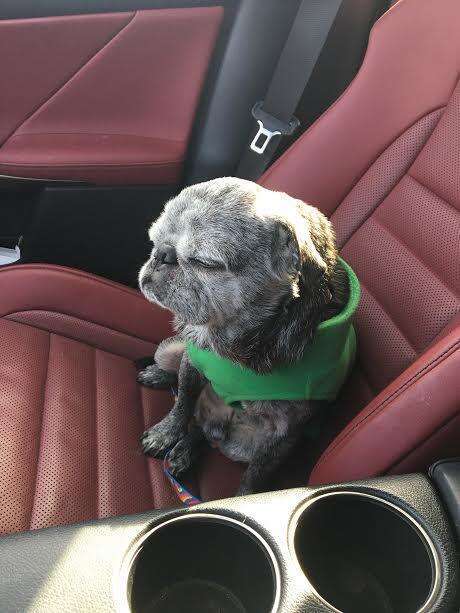 And even makes sure she's safe while she showers.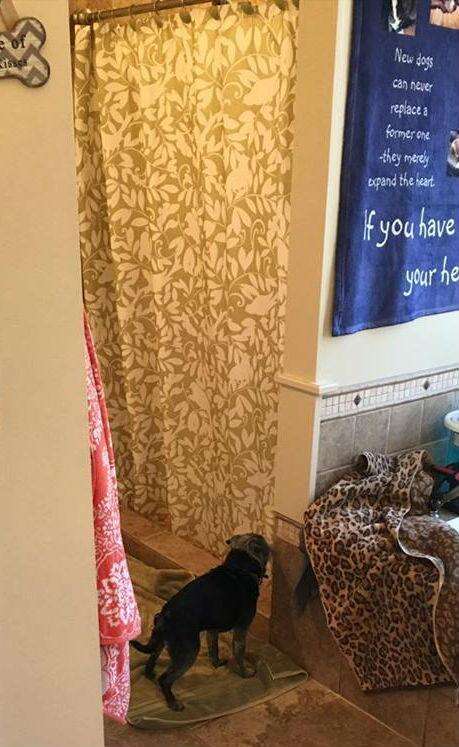 When he's not on "shadow" duty, Frank enjoys hanging out with his siblings and spending time in bed. Other favorite things include whipped cream, fruit, treats, cuddling and "crazy bed time," said Mariesa Hughes, where he snorts, smushes his face and nibbles fingers playfully in the morning.
"He's very playful for an old guy," Mariesa Hughes said. "He walks well on the leash, he doesn't mind the bath and he only gives three - sometimes four - kisses a day. Those are usually first thing in the morning during 'crazy bed time.'"
Franklin is currently undergoing hydrotherapy twice a month to strengthen his weak and wobbly back end, likely due to some compressed vertebrae, according to a neurological veterinarian Chris and Mariesa Hughes took him to see. He especially likes when therapists stick peanut butter to the front wall of the underwater treadmill to keep him moving forward.
Oh, and sometimes he even smiles.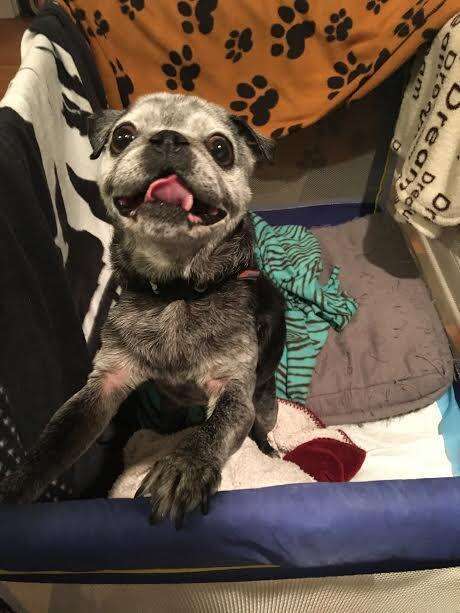 The best news of all is that Mariesa and Chris Hughes have decided to keep Franklin permanently. "He fit very well into our pack, and our home is accessible to him, as he has difficulty with stairs due to his back issues," Mariesa said. "And he has taken a liking to me."
"Franklin is just one of hundreds of seniors who are surrendered [in shelters] or found as strays," Mariesa said. "He is just one of the lucky ones to get out alive - hundreds of dogs are euthanized every day after being given up by the only family they have known."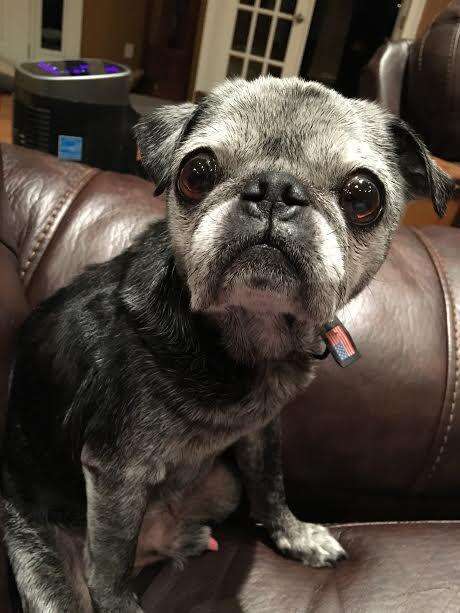 Fortunately, Franklin now has a second chance because of Mariesa and Chris Hughes, and the Mr. Mo Project.