Hazel the pug joined her family when she was just a puppy. She's always been a spunky, sassy little dog, and even now that she's 15 years old, she still proves to the world every day that she can get through anything - with the help of her mom and a little bit of style.
Hazel has always had a big personality, and even as a puppy, she loved meeting new people and bossing her family around.
"From the very first day we had her she was a clown, a character and the boss of our 5-year-old yellow Lab," Chris Pucillo, Hazel's mom, told The Dodo. "She totally captured our hearts."
Around four years ago, Hazel's family noticed that she was developing "a sort of a cute swagger" when she walked, according to her mom. After taking her to the vet, they discovered that Hazel had disc degeneration in two different places on her spine.
"It would only get worse," Pucillo said. "But there is no pain involved, which is a blessing."
Knowing that Hazel would soon struggle to walk at all, her family made a trip to Eddie's Wheels in Massachusetts to get Hazel fitted for her very own set of wheels.
"She took to it immediately," Pucillo said. "The day she took a test drive on a sample, you can see the appreciation, the relief and the happiness on her face. I cannot say enough good things about Eddie's Wheels and the extension and improvement of her life thanks to them."
While Hazel soon became a pro at getting around with her wheelchair, her mobility issues and increasing age still took their toll, and the sweet older dog slowly became much less active than she used to be.
"Hazel, at her ripe age, does not do too much these days," Pucillo said. "Her main activity, no surprise, is snoozing in one of the many luxuriously appointed dog beds she has."
Ever since she was a puppy, Hazel has always loved when her mom dresses her up in cute outfits. So to make her wheelchair and her golden years a little more fun, her mom began incorporating her wheelchair into her outfits, too, making Hazel the sassiest, most stylish senior pug around - just the way she likes it.
Hazel and her wheelchair have gotten all decked out for occasions like the Super Bowl ...
... and Halloween, when she dressed up as a colorful piñata.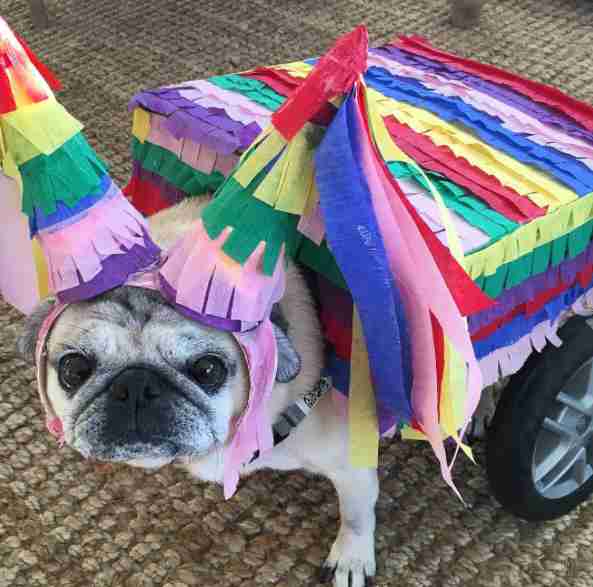 She's also found that her wheelchair is GREAT for holding things, like snacks ...
... and an umbrella on a rainy day.
Hazel may be older and have a harder time getting around than other dogs, but she lives her life with so much joy and flair, and that's what counts.
"She sure can motor around on her wheelchair, and it is now merely an extension of her true self," Pucillo said. "Hazel has been a such a wonderful pet and companion, and, while loving her life, she has brought so much joy into so many of our lives as well."