When a family can no longer keep a dog, that dog's future can become very uncertain. That's exactly what happened to Rusty, a 13-year-old dog who was picked up after his previous owner in North Carolina was placed in a nursing home. Rusty's story was featured recently on Susie's Senior Dogs, an organization that helps older dogs find loving homes.
Since Rusty was already older and suffering from many health issues, his chances weren't good. He was already scheduled to be euthanized when Lisa Forgione, a volunteer at Montgomery County Animal Control, saw his picture in an email her shelter received. Rusty was the only older dog featured in the email, and Lisa knew his chances were slim.
"My boyfriend and I were in the rare position of knowing if we didn't help him, he had absolutely ZERO chance of leaving, and that was something I couldn't live with even though it was going to be super tough," Lisa told The Dodo. "We were not prepared for another dog, and had to get things ready for him within a whirlwind 24 hour period."
Lisa made the two-hour drive to see Rusty the next day, and when she arrived she knew she had to take him. "He looked utterly defeated, heartbroken and confused. He was surrounded by all these young pups and giving me a look of 'I'm too old for this!'"
Once Rusty had been rescued, the extent of his neglect was truly realized. Rusty had bacterial ear infections, a severe flea allergy, ticks, unexplained sores, missing and broken teeth, a bacterial illness called Ehrlichiosis that's transmitted through ticks and a swollen prostate.
"I try and think on the positive side, so what I imagine is because of an ailing human is why his health was/is so poor," Lisa told The Dodo. "He was INFESTED with fleas. I've seen flea problems, but this took the cake. It was unreal."
Lisa and her boyfriend had not planned on taking in another pet - when Rusty arrived, they already had a 13-year-old Chihuahua named Sammy, a 12-year-old Beagle named Lady, a 2-year-old previous stray pup named Charlie, a rescue cat named Prudence and a rescue hamster named Fezzik.
While their hands were already very full, as soon as they met Rusty, they knew they had room in their heart for one more. "It hasn't been easy, but we are making it work! And we LOOOVE him," Lisa said.
Today, Rusty is living the second chance he always deserved. The fur he had lost from his flea allergy has completely grown back, and his swollen prostate is almost back to normal. Rusty went from feeling old and defeated to being a fun, goofy member of a big, loving family. He loves the commotion of his doggie siblings, and loves to outsmart everyone.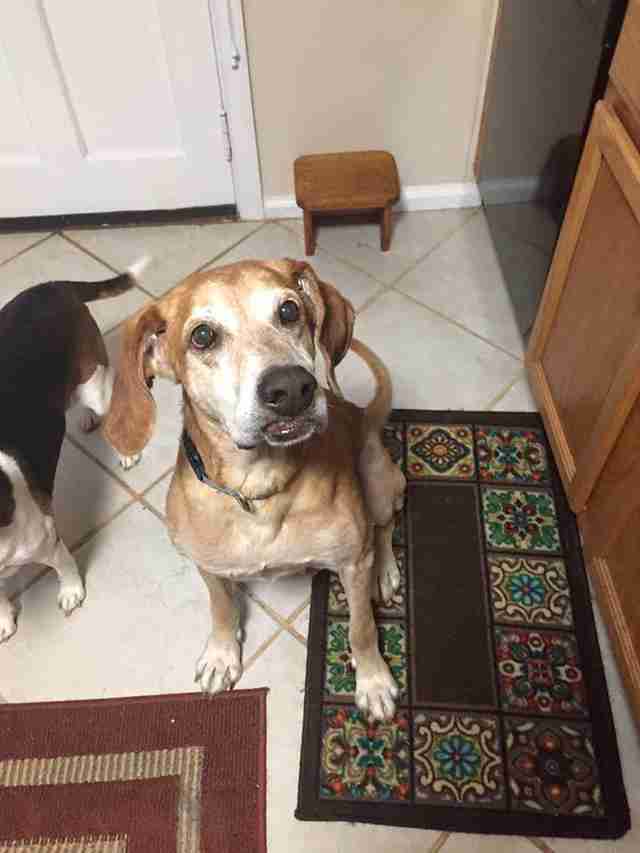 "He is SMART. He has a certain chair that he likes to sit in, and if one of us, or the dogs, are sitting there, he will no joke make a distraction," Lisa said. "Once we get up, from whatever we heard him doing to check it out, he RUNS full speed to his chair and lays down before we can get back. He's done it to me numerous times, my boyfriend quite a few, but poor Charlie seems to be the one who gets bamboozled the most."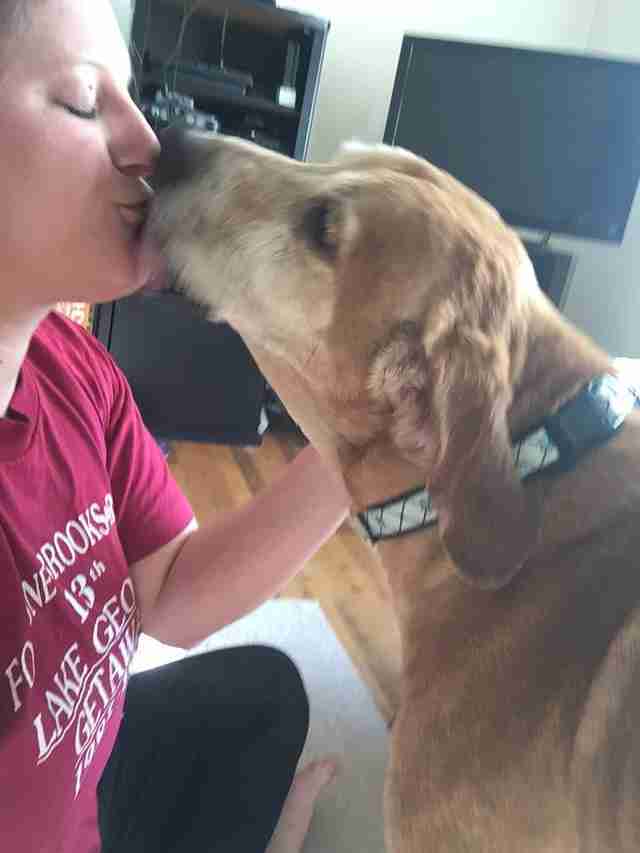 If Lisa and her family hadn't found it in their hearts to make room for one more member, Rusty never would have known this new life. A senior dog can be a lot of work, but Rusty is concrete proof that once you welcome one into your home, it will be so, so worth it.
"With three senior dogs we like to think we have our own doggie nursing home," Lisa said.
To support the shelter that helped to save Rusty's life, check out Montgomery County Animal Control.
To add a pet in need to your family, check out Adopt-a-Pet to get the process started!