When Eldad Hagar of rescue group Hope For Paws got a call about a homeless senior dog living on the side of a California freeway, he knew it wouldn't be an easy rescue.
Hagar and another rescuer found the dog, a big yellow guy they called Rudolph, sleeping in a sunny patch of grass by a highway off-ramp.
They slipped a leash on Rudolph while he was sleeping so he didn't run off into the highway traffic - but when he woke up to find strangers had put a lead on his neck, he was frightened and anxious.
Rudolph bit at the leash - a street dog his whole life, he may not have even known what it was.
But with soothing tones, Hagar got Rudolph to settle down, finally sitting down in the grass as though he had accepted that they were there to help him.
In only a short time, Rudolph was already starting to trust ... and to transform.
Hagar got Rudolph into a dog crate, and then he spent even more time talking to him, and even starting to pet him, to assure him that he was safe and taken care of.
As cars rushed by on the freeway behind them, Rudolph was starting to warm up to the humans who were trying to save him.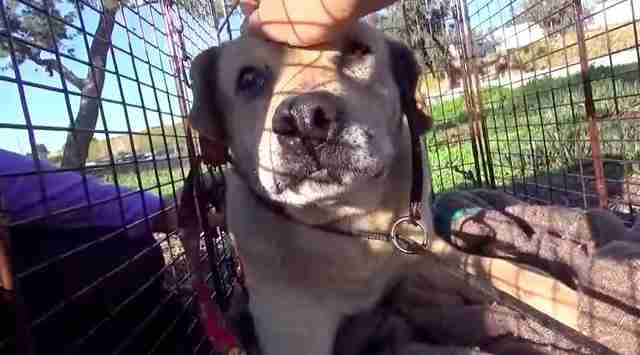 By the time they had reached the animal hospital to get Rudolph checked out, he was all smiles - almost as though he were a completely different dog.
Rudolph is now in the care of Lionel's Legacy, where he's making new friends and waiting for the perfect adoptive family.
Whoever adopts Rudolph will get to experience the joy of giving a senior dog his first forever home, his first comfy bed, his first toys and treats. And Rudolph will finally get to feel the love of a real family.
Watch the whole rescue here: