Senior Dogs Are Getting Dressed Up For 'Prom' — For The Best Reason
"Senior dogs are every bit as beautiful, lovable and adoptable as younger pups."
Rupert is looking for a home, but so far he's having trouble finding one. It probably has a lot to with his age — he's 10 years old, which has come with blindness and mobility issues.
But to Hanna Cofer, president of Pug Rescue of Austin, the group that rescued Rupert, he's perfect.
"He is an absolute lover and is incredibly good at navigating his surroundings," Cofer told The Dodo.
To help others see what a gem Rupert is, The Grey Muzzle, an organization that gives funding to rescue groups and sanctuaries that help senior dogs, is throwing a senior dog prom.
To prepare for the event, Rupert dressed up in a bowler hat and bowtie, and posed for pictures.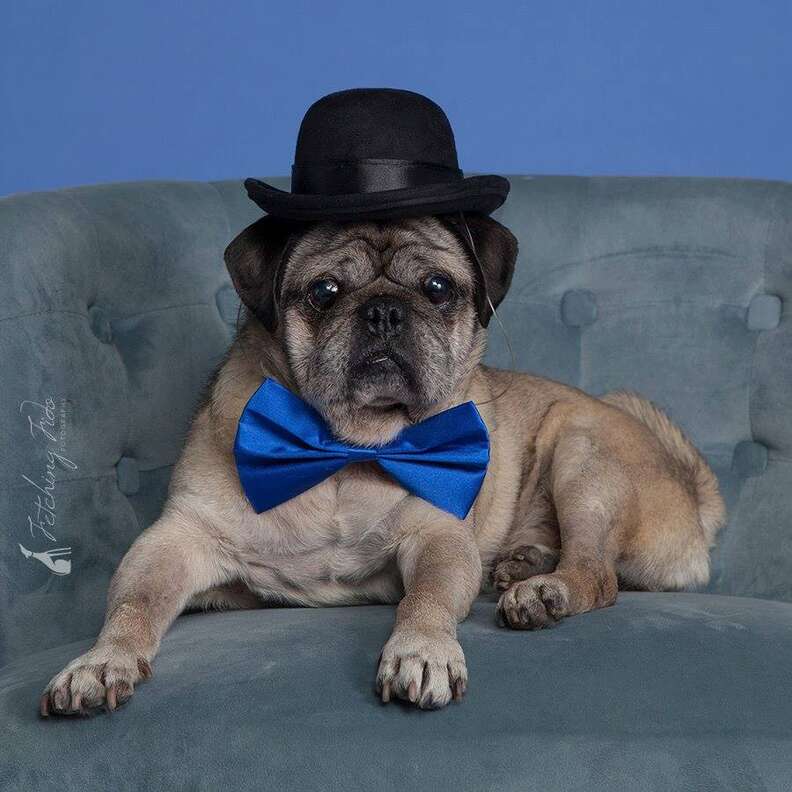 "Honestly he loves dressing up because he likes being held," Cofer said. "I think his darling prom photos will go a long way in helping him find a new home."
The Grey Muzzle got the idea for a prom from Muttville Senior Dog Rescue in San Francisco, which holds an annual senior prom benefit for its human supporters to raise money for older dogs.
"We loved the idea ... but wanted a way that more people who adore their old dogs could participate no matter where they live," Lisa Lunghofer, executive director of The Grey Muzzle, told The Dodo.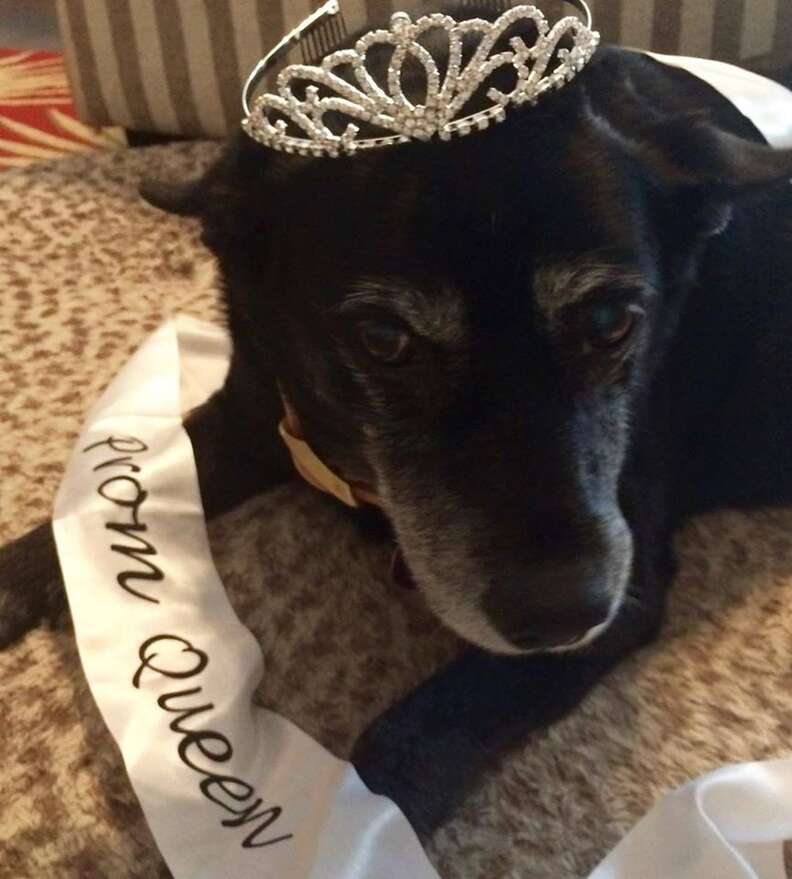 Instead of holding an event in a physical location, Grey Muzzle's prom is virtual — and anyone with a senior dog can participate. To get involved, owners dress up their senior dogs in prom apparel and post a photo on social media with the hashtag #SeniorDogProm, along with the dog's name, age and hometown.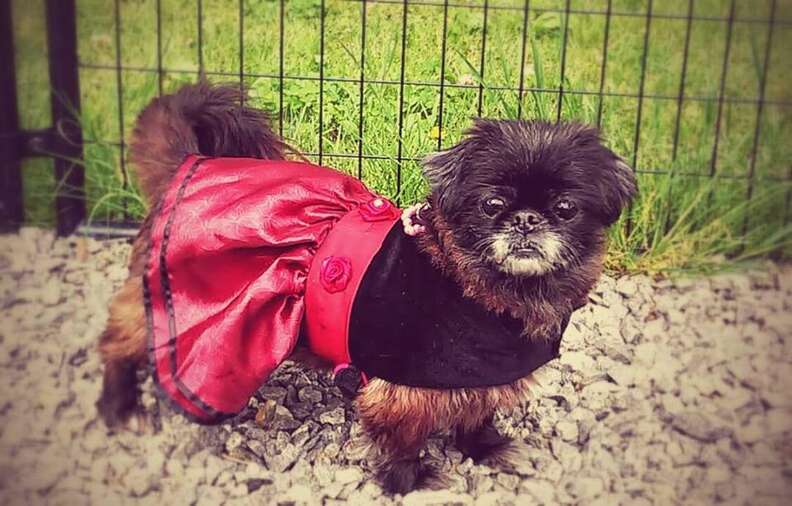 The contest is free to enter, and the public can vote for their choice of Prom King, Prom Queen and Cutest Couple. And, like Rupert, many prom dogs are up for adoption.
The response has been amazing so far, Lunghofer said.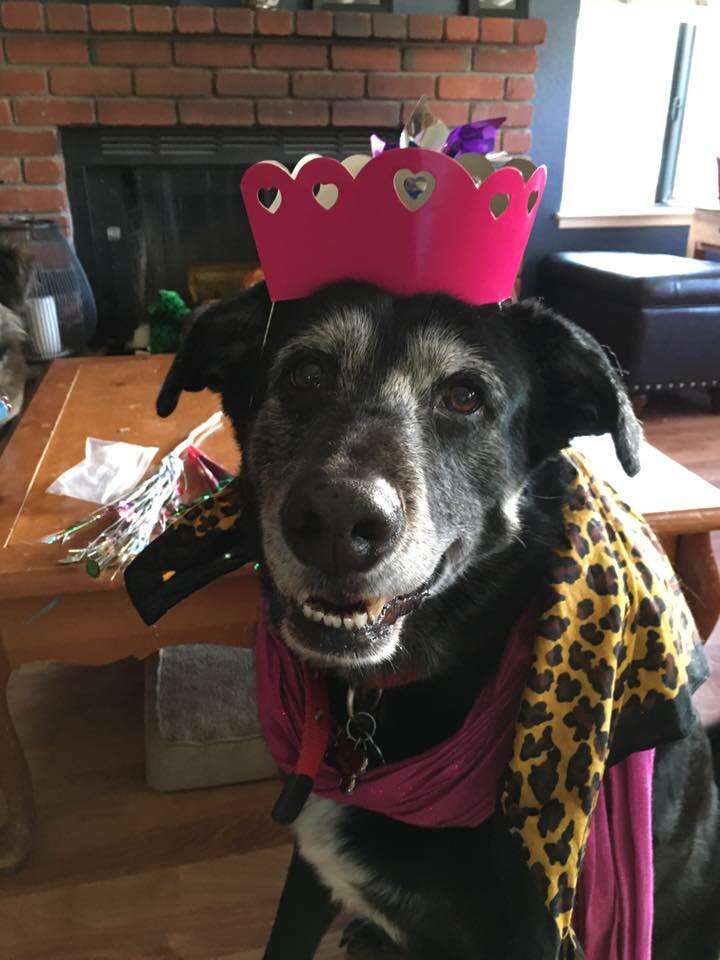 "We've gotten pictures of handsome bachelors ready to give red roses to their dates and adorable girl dogs who look like princesses in their prom dresses," Lunghofer said. "My personal favorites so far include Rupert from Pug Rescue Austin … and Colleen, a pretty little girl from Saving Pets One at a Time (SPOT) in Washington state, who is hoping to find a home."
"We've also received fabulous photos of dogs already in loving homes and fosters, like the marvelous Mikey, who is pictured disco dancing under a glittering ball," Lunghofer added.
But this doggy prom is more than a cute photo opportunity — it's also a chance to show the world how wonderful senior dogs can be.
Sadly, lots of senior dogs are abandoned at shelters each year, although it's unknown exactly how many.
"We'll never know how many dogs end up in shelters — surrendered or abandoned on the streets — simply because they are 'too old,'" Lunghofer said. "Everyone who does rescue work recalls seeing a sad, confused old dog patiently waiting for his family to come back for him. Thankfully, we're also seeing more adopters fall in love with senior dogs, take them home, cherish them and treat them like royalty for the rest of their lives."
But things are changing for the better. A recent survey conducted by The Grey Muzzle shows that more people than ever are adopting senior dogs. In 2016, 30 rescue groups and organizations funded by The Grey Muzzle found homes for nearly 18,000 dogs – and 3,900 of them were seniors.
"We saw an opportunity to shine a spotlight on old dogs through social media and encourage those who haven't experienced the joy of having an older dog in their lives to adopt a senior," Lunghofer said. "Senior dogs are every bit as beautiful, lovable and adoptable as younger pups. Nobody is more grateful or loving than a senior dog who knows he's getting a second chance to love and to be loved during his golden years. And nothing feels better than knowing you're giving an old dog a new life."