Senior Dog Won't Go Outside Without His Favorite Stuffed Animal
All his toys make him feel safe ❤️
Winston the bulldog just turned 10 years old, but in a lot of ways, he still acts like a puppy. He's been with his mom and dad since he was young and has a lot of adorable quirks, and his most prominent one is his love of toys.
Ever since he was a puppy, Winston has been obsessed with his toys and stuffed animals. He takes them with him everywhere - even when he goes outside to go to the bathroom. In fact, he can't do his business without them.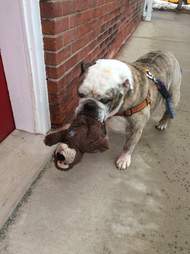 Becky Smith
"Winston is very attached to his toys," Becky Smith, Winston's mom, told The Dodo. "His favorite toys are his duck and bear. He carries them outside with him almost every time and has done this for many years."
If Winston accidentally forgets to bring a toy with him outside, he will immediately run back inside to look for one. His toys are very comforting to him and seem to make him feel safe. Without them, he's completely lost.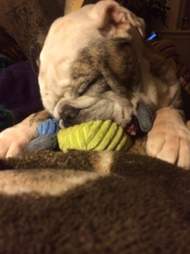 Becky Smith
Winston also has to bring a toy to bed with him every night. His parents make sure to buy toys that have long snouts or beaks, because he likes to suck on their noses while he sleeps - the same way a kid would suck on his thumb.
Becky Smith
Besides his toys, Winston also loves riding in his wagon and trying to steal food. His favorite snacks are apples, sweet potatoes, carrots and peanut butter, and he knows exactly where in the fridge each favorite snack is kept.
Becky Smith
"He uses his underbite to pry open the door," Smith said. "We've since installed a latch to keep him out but he's too stubborn to stop trying."
Winston has a lot of unique habits and quirks, but he's also the sweetest dog his parents have ever met, and they're happy to put up with all of his oddities - as long as they get lots of love and cuddles in return.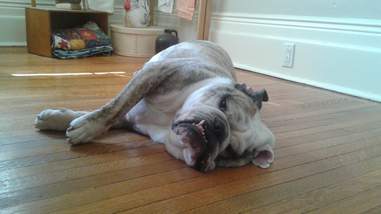 Becky Smith
"He's the sweetest dog who will cuddle on your lap for hours on end," Smith said.