Senior Dog Dumped Because His Owner Got A New Carpet
<p> <a href="http://www.itsaruffliferescue.com/">It's A Ruff Life Rescue</a><span></span> </p>
A 7-year-old pit bull named Bruno is in desperate need of a new family after being dumped by his former owner, for whom he provided years of faithful companionship. The reason? He apparently didn't want the dog to dirty his new white carpet.
When a relative of the owner heard about his plans to abandon the dog, she contacted It's A Ruff Life Rescue for help. Volunteers from the group intervened, convincing the man to give Bruno over to them instead. That's when they learned of the dog's heartbreaking story.
"The owner had recently gotten divorced and was left to care for Bruno and another dog, a shih tzu," the group's founder, Kristin, told The Dodo. "He'd just gotten a new white carpet and a new sofa, and as a result, really didn't want the dogs."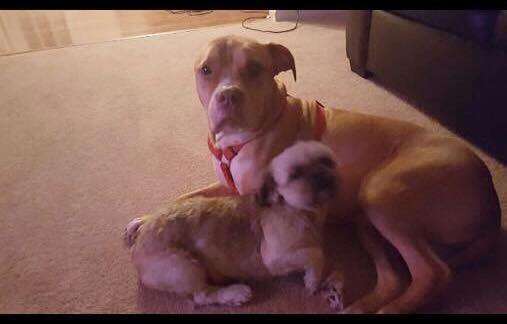 As inexplicable of an excuse as that was for discarding a pet, it wasn't the worst of it. As it turns out, the man's ex-wife didn't want Bruno either, but she did take the smaller dog who had been his only friend. In fact, prior to the divorce, they had cared so little for Bruno they literally starved him of love as a perverse sort of training method.
"He told me they taught Bruno not to lick by not petting him. The dog hadn't been pet in two years. They have no affection for him. He was just a piece of property. It was very sad. All he had was that other dog," Kristin said. "When our volunteer went out to pick Bruno up, the shih tzu actually ran out the door and tried to jump into the car with him. It was very sad."
Since then, Bruno has been placed with a foster family, though things haven't been easy for him as he waits to find a forever home.
"He's going through a struggle now trying to adapt without his little buddy. The problem is that he's 7 years old, which means he's a senior. As of today, he's doing much better than he was before, but he's still learning to trust again. He's still depressed," said Kristin.
Despite all he's been through, Bruno has shown himself to be a sweet, loving dog, enjoying the companionship of his foster family. Still, what he needs the most is to find a home where he can stay forever - preferably in the New Jersey, Pennsylvania and Delaware regions.
"If you wanted an older dog who's well behaved, he's perfect," Kristin said. "Also, he loves kids, which is a plus. I think with time, he'll open up even more. Right now he's just scared that somebody is going to leave him again."