Senior Dog Was Almost Put Down — Because Of Her Skin Condition
She just found a new family who's the PERFECT fit ❤
A neglected senior dog named Shelby recently found the perfect forever home when she was adopted by an elderly couple in Ossipee, New Hampshire, this year.
The 10-year-old Labrador coonhound mix was nearly euthanized due to a treatable skin condition. Now, Shelby is learning what love is - possibly for the first time in her life.
One week before Christmas in 2016, Cecelia Blake, cofounder of Connect A Pet New England (CAPNE), received a startling phone call from a former coworker. "She had happened upon a dog whose family had apparently given up on her," Blake wrote on CAPNE's Facebook. "The family stated she needed baths every other day and a $200 medication. It was too much work and too much money."
The woman asked Blake about euthanasia options for Shelby - the dog was in such poor condition from neglect that the woman thought Shelby was dying. So, Blake asked the coworker for more information and, upon learning that Shelby's condition could likely be treated, took the dog to get medical care.
Vets confirmed that Shelby's skin condition was treatable, as were a host of other medical issues stemming from a lack of care. The malnourished dog was nearly 20 pounds underweight, infested with parasites and suffered from infections in one eye, both ears and a tooth. Through it all, Shelby proved to be a super sweet dog who was starving for attention - and food.
"She is eating and drinking," Blake wrote on Facebook shortly after taking Shelby under the rescue organization's wing.
Fortunately, those days are behind Shelby now. Blake fostered Shelby and nursed her back to health until she was well enough to find a forever home.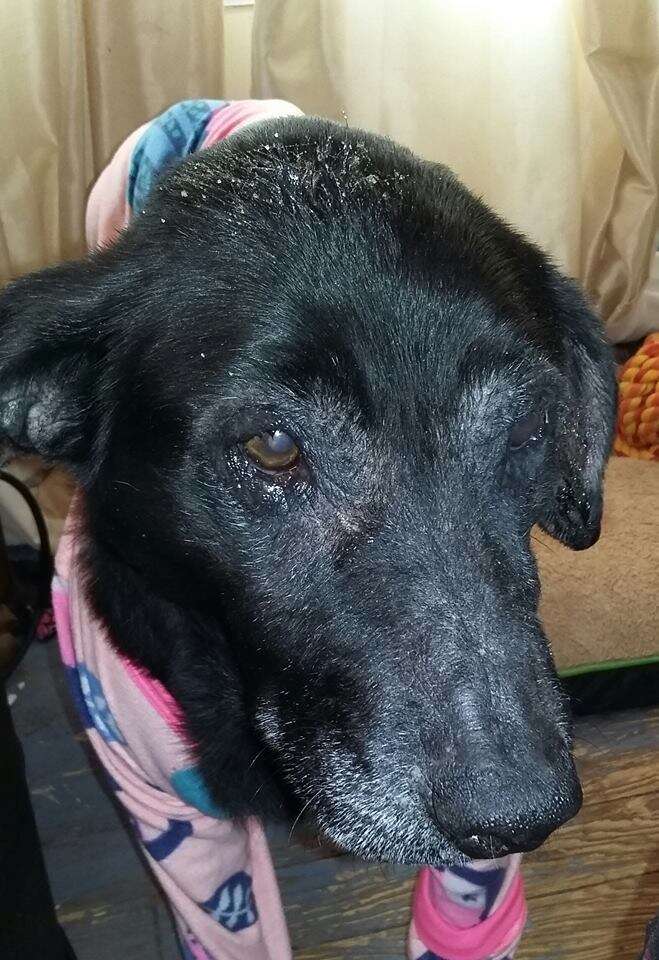 Lillian and Red Bibber had recently lost their border collie to cancer and were missing canine companionship when their granddaughter, Kellsey Libby, saw Shelby's story on Facebook.
"My grandparents are in their eighties," Libby told The Dodo. "Their personalities just seemed so similar, it just felt like it made sense. That needed to be her forever home!"
Lillian Bibber has always had dogs. She received her first one at the age of 5 and named him String Bean. Since then, Bibber has been a lifelong dog owner, adopting two more before Shelby. "We like to give them a second chance," Lillian Bibber told The Dodo.
Now, Shelby is spoiled rotten with love and attention. She loves to "talk" and have conversations with the couple each day. "She makes us happy," Bibber said. "I would be lost without a dog."
Because Shelby is an older dog, she spends a good amount of time doing her favorite activity - sleeping. "She sleeps a lot, but is also very loving," said Blake, who still visits Shelby in her new home. The senior pup loves to watch old Western movies with her owners while relaxing on the couch.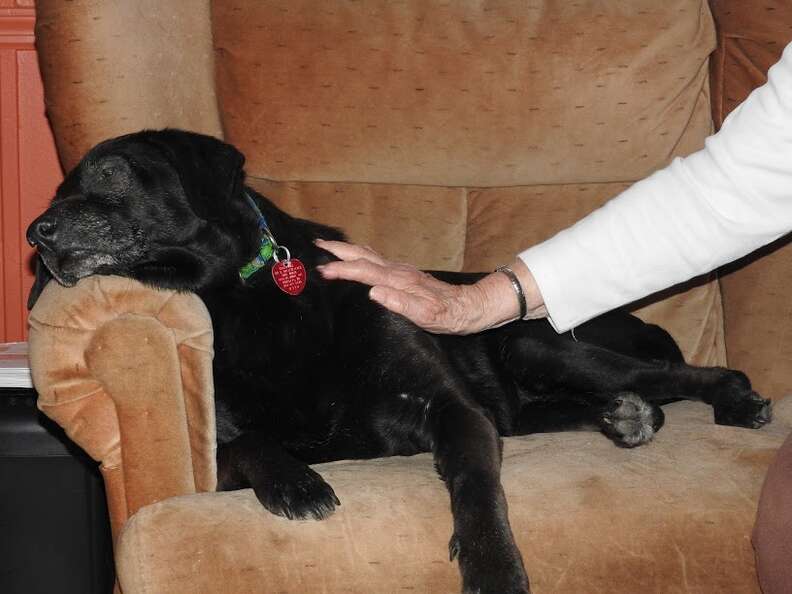 Shelby also enjoys watching the neighborhood dogs and cats through the window. "If we say 'Shelby, where's the kitty?' she perks up and knows to look outside," Bibber said.
Bibber makes a weekly batch of biscuits and Shelby is always around to watch. "She is starting to follow me into the kitchen while I cook," Bibber said. "She sits and watches." Shelby also gets a special breakfast once a week of one piece of bacon and one egg.
Libby likes to visit Shelby with her children and they take the dog out for walks together.
"She is sweet as pie and is just an old soul looking to rest," Libby said.
Blake originally thought Shelby would be with her family for the rest of her life, because senior dogs can be difficult to adopt out. However, the Bibbers knew Shelby would be a perfect fit for their family, and Shelby is now living comfortably and loved - just as she should be.