'Kitten' Saved From Raccoon Trap Isn't A Kitten At All
He was so scared at first but now he cozies up to his rescuers.
Klaus the cat was found after being caught in a live trap of someone who was trying to trap raccoons near a junkyard in Texas. He was covered in grease and dirt - and was clearly in rough shape.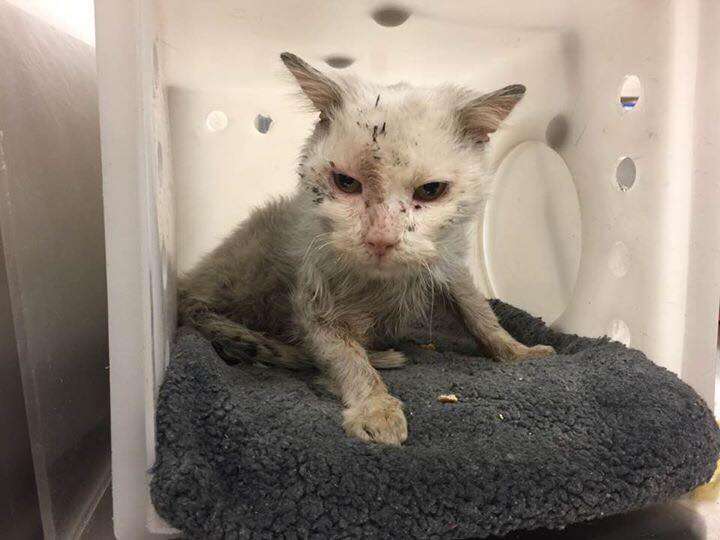 Klaus was taken in by the Austin Animal Center (AAC), where staffers estimated him to be very young, around a year old. He was absolutely terrified when he was first brought in, so his rescuers thought he might be feral. But as soon as he was safe and feeling a little better he began to warm up to the people who saved his life.
"When he first came in he was hissing and backing away because he was frightened, but now he has warmed up so much," Hanna Peterson, senior customer care representative at the AAC, told The Dodo. "He loves to be pet all over but is still a bit reserved and shy."
Klaus came into the shelter extremely skinny, and after some tests, it was determined that he has severe anemia. More tests and examinations also revealed something surprising about Klaus - he was actually 9 years old instead of just 1. Apparently he's aging well!
The senior cat was placed in a foster home, where he can work on gaining some weight and getting strong enough to have his neuter surgery so he'll be all ready for adoption.
"He is very timid - possibly because he doesn't feel good," Carla Penny, Klaus's foster mom, told The Dodo. "He is eating well and I am hopeful he'll put on some weight and his red blood cells will build back up."
Klaus is still a little shy, and so his foster mom has decided to hold off on bathing him until he's feeling a little better and more confident, so as not to traumatize him anymore. Once he's all cleaned up, there's no doubt he'll be the most gorgeous, fluffy cat.
No one really knows what happened to Klaus before he was found, but now that he's been rescued, he has a safe warm place to build up his energy again before finally finding his forever family.