Charlie the cat had been waiting at the Young-Williams Animal Center in Knoxville, Tenessee for a very long time. She's 13 years old, and just wanted a quiet home where she could retire. It seemed like Charlie might be waiting forever - until finally, an older gentleman who understood her finally noticed her.
The man's sister contacted the shelter to ask about Charlie, but said it might be hard for them to come visit in person as they are older. But it's the shelter's policy that anyone hoping to adopt has to come visit in person.
A few days later, they were finally able to make it, and thank goodness they did.
"When I went in her cage to get her, she hissed at me while she was in her box," a shelter staffer wrote on Reddit. "So instead of messing with her, I picked up the box and brought it in the visitation room. Within seconds, Charlie hopped out of the box, right onto the older man's lap. It was the sweetest thing."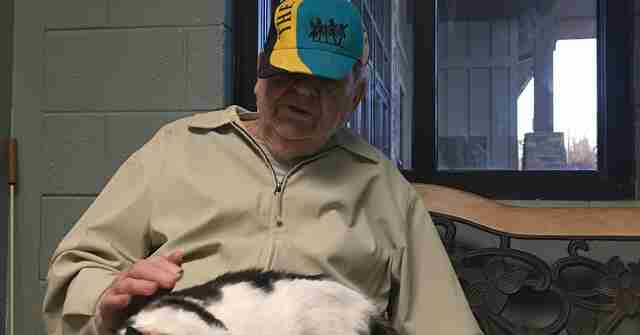 Charlie was scared of everyone else, but she seemed to know right away that the man was there to take her home. As the shelter worker wrote, "They adopt us! It's a beautiful thing."
The man and his sister told shelter staffers that they had recently lost their mom and their cat in the same week, and they were looking for a furry friend to make the grief a little easier to bear.
"It was the best thing ever to see him fall in love with Charlie," the shelter worker wrote. "Every time I would ask him a question, he would say, 'I think she knows I'm taking her home. She's mine.'"