Secret Video Reveals The Real Lives Of 46 Captive Whales
What investigators say they've found is shocking.
The park allegedly lets belugas breed indiscriminately in the pool - five were born and one died during the investigation, and LCA says park staff was told to keep the death of the baby quiet. (There is never a mention of the death of the beluga whale calf on Marineland's press release page.) Some belugas appeared to be in distress and were observed rubbing their genitals on the bottom of the concrete tank until the water was tinted red.
Beluga whale rubbing herself compulsively on the bottom of the concrete tank.YouTube/Last Chance for Animals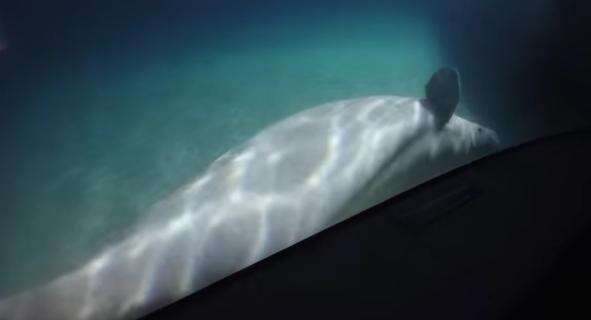 A beluga calf suffering from an injury was left untreated for two days, only to then be seen by a local small animal veterinarian.
Young belugas, including newborns, were "covered in rake marks," which were caused by dominant whales in the tank, according to LCA. One baby beluga named Gia was accidentally separated from her mother for three whole months. "She became emaciated," LCA said.
Gia became emaciated when she was accidentally separated from her mother.YouTube/Last Chance for Animals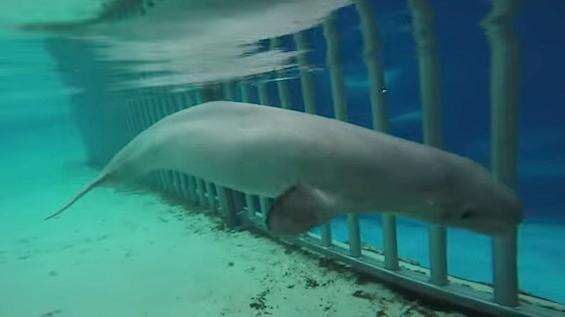 "The investigation lasted from May until October of 2015 and was filmed by someone who worked at the park and filmed undercover," Adam Wilson, director of investigations at LCA, told The Dodo. "We keep more details about the investigative methods confidential because it would hinder our ability to conduct further investigations."
Some beluga whales at Marineland depend on visitors for feedings.YouTube/Last Chance for Animals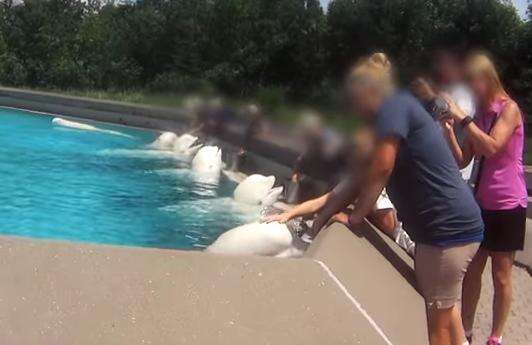 Historically, beluga whales don't do so well in captivity. The mortality rate among young belugas in captivity is 65 percent. And belugas who survive captivity long enough to become adults still don't live long, often dying before reaching 30, unlike their wild counterparts who can live to age 60, though we don't know their average life expectancy.
Shallow tank offers very little protection from the sun.YouTube/Last Chance for Animals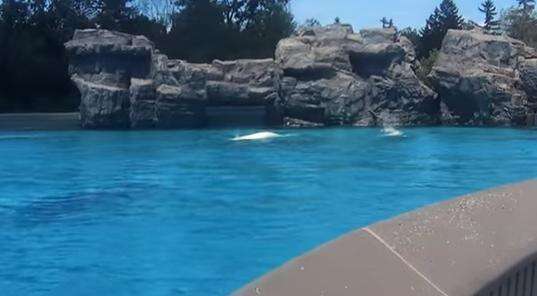 According to neuroscientist and marine mammal expert Lori Marino: "[T]he number and density of whales at this facility is at odds with the whales' natural tendencies to live in very small groups which, when they choose, join larger aggregations ... Moreover, belugas in open water can cover thousands of kilometers over a few months and can swim at a rate of up to 6 km/hour and to depths of 600-1000 m."
Marino, who compiled her observations about the secret footage in a statement provided to The Dodo, concluded that "that the beluga whales (and other animals) in this facility are in very poor psychological and physical health and are continually placed at risk by the hazards of public feedings and easy access to their tanks."
Beluga whales in their tank.YouTube/Last Chance for Animals
And the conditions of the Marineland enclosures weren't just bad for the belugas - they were unsafe even for humans in vicinity, according to LCA. Staff and park guests complained of burning eyes caused by barrels of industrial strength bleach adjacent to the water treatment building.
Marineland is also home to a solitary orca named Kiska. She's been there for 38 years, since being captured from the Atlantic as a calf.
Marineland's lone orca, Kiska.YouTube/Last Chance for Animals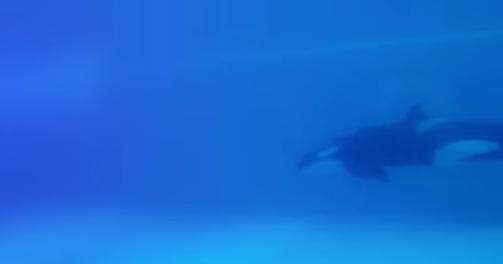 "In addition to the clear violations of any North American welfare standards for captive cetaceans, there is the very troubling matter of neglect and lack of expertise on the part of the care staff," Marino said, in a release provided to The Dodo. "These welfare issues make it abundantly clear that this facility is not capable of caring for beluga whales, that the whales are not thriving, and that any expert in marine mammal health would be severely concerned about their well-being."
Beluga whale suffering from rake marks.YouTube/Last Chance for Animals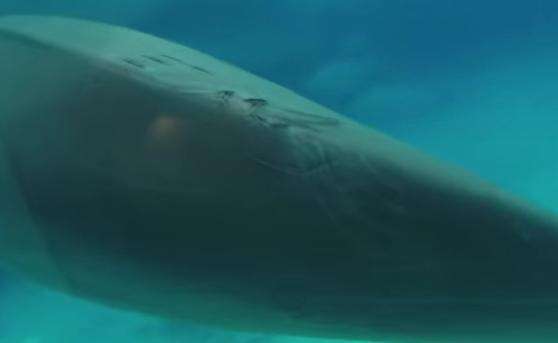 But Marineland believes they have proof the animals in their tanks are perfectly fine. "Current video and photos taken today of the marine mammals identified in the Last Chance for Animals YouTube video released today are being posted to Marineland's Facebook page this afternoon," Marineland's Marketing Department told The Dodo in an email. "These photos and videos confirm that the animals are healthy and that the allegations in the video are false."
On Tuesday afternoon, Marineland issued a release to The Dodo that claimed the investigation is "completely and knowingly false," pushing a legislative agenda to get a bill passed in the Canadian senate that would ban marine mammal captivity and force the closure of Marineland and Vancouver Aquarium.
"All this 'group' has done is make a hate-filled rant on the internet without concern for any consequences to the people who dedicate their lives to these wonderful marine mammals at Marineland and without regard for any damage they may cause to innocent people in the community of Niagara Falls."
Marineland has flooded its Facebook page with photos and videos of its beluga whales purporting to show "healthy, happy members of our beluga community."
Have a tip? Email sarahv@thedodo.com.