Last July at Superpod3 on San Juan Island, I was so happy to meet Thomas, who said he was a San Diego activist. "I love you San Diego activists and I'm heading down there soon," I told him.
One evening at Superpod, I gave a short presentation at the Whale Museum about Corky's Freedom Banner and my upcoming symbolic road trip for Corky from SeaWorld San Diego to Dr. Paul Spong's OrcaLab on Hanson Island, Canada. Thomas helped me hold the banner during the presentation, and I appreciated his support and friendliness that evening and also when we were on a Superpod-hosted whale watching trip.
On the last day of Superpod I checked my email and was quite stunned to read this invitation from SeaWorld's Director of Education and Conservation:
I read with great interest your plans for a Corky 2 Freedom journey to San Diego. I don't know when your last visit to SeaWorld was, but I would like to offer you an opportunity to come to the park specifically to meet Corky, her veterinarians, trainers and team to gain a greater understanding of her care and wellbeing. Dr. Spong has been predicting Corky's demise since the mid 1990s, yet nearly two decades later Corky remains a healthy, vital part of our killer whale family. There is so much misinformation in the press and on blogs, as one educator to another I thought since you will be in San Diego this would be a great chance for you to see Corky firsthand and get the chance to ask her caretakers any questions at all. I am happy to extend this opportunity to you and a guest. My contact information is below. Please let me know how you'd like to proceed. Thank you.
How did SeaWorld get my email? How did they learn about my plans? It must have been through a Facebook event page for the banner display. Why did they want to meet me? I'm just a kindergarten teacher after all. Did they want to convince me that Corky was happy? Learn if I was part of PETA? Change my mind about captivity? I responded and accepted their offer and went on a behind-the-scenes tour.
Several days after the SeaWorld tour, Thomas came to Corky's Freedom Banner display at Ski Beach near SeaWorld. We walked around the banner and strolled down to the beach and chatted about Superpod and my SeaWorld tour. "If SeaWorld is resorting to these underhanded tactics, it shows how desperate they must be becoming," stated Dr. Paul Spong.
Thomas even joined in a group photo with San Diego activists and Assembly member Lorena Gonzalez, a vocal opponent of SeaWorld, and her young son.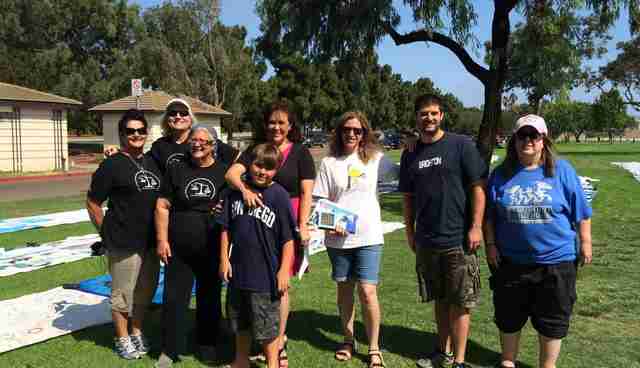 So after learning that Thomas is not his real name and is a SeaWorld spy, I feel sad, angry, and betrayed. Still, I am hopeful that Thomas saw and heard something at Superpod and through Corky's Freedom Banner and with the activists that will change his mind about orcas in captivity. Perhaps he will see the possibility of these orcas retiring to sea sanctuaries and maybe some - like Corky - even returning to their families one day. Dr. Paul Spong, on location at two possible sea sanctuaries for Corky, explains how SeaWorld can retire Corky to her home waters of Canada:
This year at Superpod4 I will have part of Corky's Banner with me. I welcome anyone and everyone to hold it, read its messages, feel the warmth and love embedded in the fabric, and think of the children from all over the world who wanted nothing more than for Corky to return to her true home, the ocean.
Spy-worthy? Maybe it is. A weapon of mass affection? Definitely.