SeaWorld Slapped With (Another) USDA Complaint Over Animal Abuse Allegations
<p><a class="checked-link" href="http://www.flickr.com/photos/ddyates/8503946936/in/photolist-dXsX9L-63Ntr7-5hq5fW-mNwY9k-9Z14Kr-xGmY8-hHA37r-9vTZRH-5n4B9k-6RovQV-9vZxWi-9YbLam-hHCcrz-hHB2Ha-9vZxpV-9w3zmQ-9vZyRv-5n8SZd-5n4AdM-vPt88-3RUxmM-owsriE-byrEhC-hmgUxv-8hkJXT-iiXyBt-6zAsNk-hjWj6F-hjWqN8-hmeb7L-3bY9V3-JdPQx-hHBUP7-hHBV2w-owucVB-oeZjvP-5n8SaN-hHBsyy-hHBshG-hHCbKz-hHB1wx-hHziy3-5ejYaA-5RbH2G-5RbGhq-5R7rt4-5RbFAJ-yLXo2-7gQEL4-hHyPU4">ddyates/Flickr</a></p>
SeaWorld is facing more animal abuse allegations this week, after a veterinarian says that she observed scars and lesions on the whales and dolphins at the company's San Diego park.
Dr. Heather Rally, a marine mammal veterinarian affiliated with PETA, says that she also witnessed unsupervised contact between visitors and dangerous animals as well as stress-induced behavior among the animals. These apparent violations of the federal Animal Welfare Act (AWA) led PETA to file a complaint late Monday with the U.S. Department of Agriculture (USDA), calling on it to send inspectors to the park to investigate.
Rally's photos reveal rake marks and skin lesions on the cetaceans' skin:
(PETA)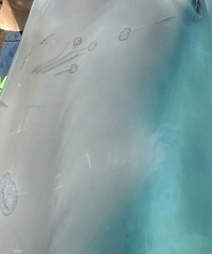 "This veterinary report confirms that SeaWorld is causing animals to suffer both physically and psychologically in hopelessly inadequate tanks," said PETA President Ingrid Newkirk. "PETA is asking families to stay far away from SeaWorld, where deprived orcas can do nothing but swim in endless circles, stressed dolphins take their aggression out on one another, and a walrus in solitary confinement is reduced to regurgitating his food out of boredom."
Rally and Ric O'Barry, founder and director of The Dolphin Project, will appear in San Diego to speak about the complaint on Tuesday afternoon.
This isn't the first complaint filed with the USDA against SeaWorld this year. In March, after a PETA complaint, the USDA conducted an investigation and cited the marine park for several violations of the Animal Welfare Act. Then, in July, after a report published by The Dodo revealed trainers using zinc oxide to cover up sunburns and skin damage on the orca whales at the park, PETA filed another complaint.