SeaWorld To Congress: Bill To Protect Orcas Is Unnecessary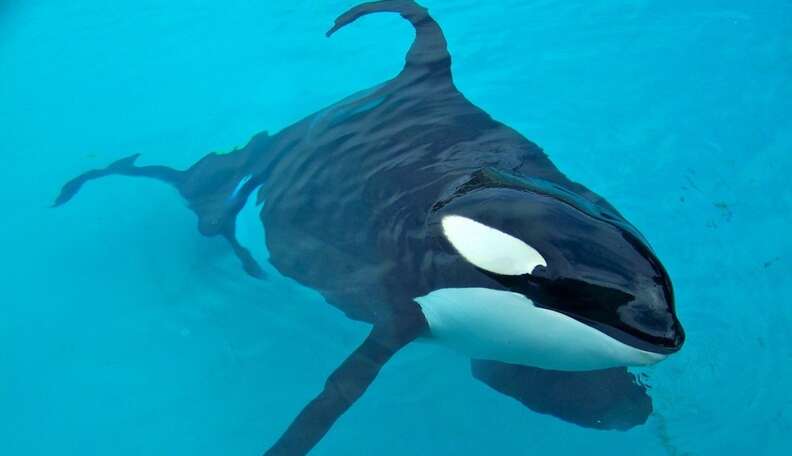 Yesterday, Congress unanimously passed a monumental law to protect captive orcas and other marine mammals, to the applause of animal advocates around the world. The amendment will provide a whopping $1 million to the USDA's Animal & Plant Health Inspection Service to be used to update regulations on marine mammal captivity so that they reflect current science.
The funds will also be directed toward research to examine the effects of captivity on orca whales and the longevity of wild and captive orca whales.
SeaWorld released this statement in response to the move:
"While we're still examining the intent of the amendment, one must question whether it is the best use of taxpayer funds to spend $1 million to underwrite studies on marine mammals in zoological settings when peer-reviewed scientific studies on this subject already exist."
It seems bizarre that SeaWorld would actually question renewed spending on captive marine mammals, as, by their own definition, "research is a key component of SeaWorld's larger commitment to conservation and animal welfare."
The regulations were last updated 20 years ago, and animal advocates argue that they are sorely out-of-date. While SeaWorld was questioning the devotion of money toward updating government regulations, conservationists were applauding the move. And that's probably because the USDA's findings could end up hurting SeaWorld's bottom line.
Courtney Vail, campaigns manager for Whale and Dolphin Conservation, said:
For those of us that have been involved, including petitioning APHIS for their petting pools several years ago, as well as originally commenting and engaging on the ANPR (Advanced Notice of Proposed Rulemaking) in 2002, congressional action is welcomed and has made all of the difference in moving the agency beyond what we could do.
Lawmakers seemed excited about the new regulations as well:
SeaWorld and marine parks profit off keeping orcas and other marine animals in captivity -- despite evidence that captivity not only induces unnatural behaviors in whales, but also endangers trainers. Join us in pledging never to visit SeaWorld or other marine parks until they empty their orca tanks.