It's been only three years since "Blackfish" made the world realize orcas shouldn't be in captivity, but SeaWorld has been ignoring the truth for much longer - about 55 years.
Upon SeaWorld's announcement on Thursday that it plans to stop breeding captive orcas, we compiled a timeline of some of the major events that led to this moment: the firsts, the so-called "successes" and the obvious signs that today's announcement should have come a great many years ago.
1961: For the first time in history, humans take live orcas from the wild.
Capturing orcas was not an easy task. Unfortunately, roundups in the early years resulted in numerous deaths due to net entanglements and even tranquilizer overdoses.
March 21, 1964: SeaWorld opens to the public.
Originally envisioned as an underwater restaurant, the project grew into a marine-themed amusement park with several dolphins and sea lions at a 23-acre park in San Diego, California.
Summer/fall 1965: Namu and Shamu are among the first whales to be captured and survive for more than a few days.
Accidentally caught by a group of fishermen, Namu was only the third orca to be captured from the wild and the first orca forced to perform tricks for the public. He was trained by Ted Griffin, photographed above. Namu died shortly after in June 1966 after contracting an infection; he was the first whale to survive more than three months in captivity.
Shamu, a female orca captured from the wild shortly after Namu, wasn't the first to perform for the public, but she did outlive her predecessor by a few years, eventually passing in 1971. Over the following five decades, her name would be synonymous with the park's hallmark circus-style show, becoming the performing name of the many other whales who would later be trained to star in SeaWorld's shows.
November 1983: Tilikum is captured off the shores of Iceland.
Tilikum was taken from his family at just 2 years old. Despite his young age, he was already about 13 feet long, an early indication that he'd grow to be the largest orca in captivity. Eventually, he would grow to be over 22 feet long and 12,500 pounds.
While it's commonly believed that Kalina was the first orca born in captivity, she was only the first one who survived more than a number of days. Between 1977 and 1985, there were at least five other nameless orcas who died as infants from various causes, including asphyxiation and brain damage.
February 20, 1991 – February 23, 2010: Tilikum makes headlines.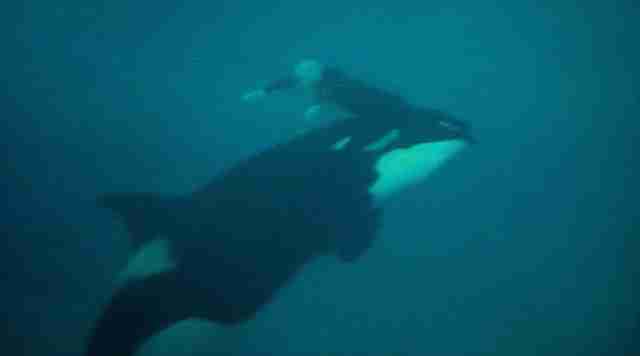 Tilikum is associated with three separate incidents, each resulting in a human's death, over the course of two decades, raising questions about whether the deaths were accidental or, as was increasingly suspected, a reaction to the overwhelming stress of captivity.
Most recently, Tilikum was involved in the death of Dawn Branchau, a longtime trainer whom he dragged into his pool and attacked. The death shocked people around the world. There is no recorded case of a wild orca ever killing a human.
2013: "Blackfish" comes out.
The film included shattering realizations for those outside the captive marine mammal industry. Including interviews with former trainers and footage from throughout the years, "Blackfish" argued that Tilikum's aggression was a response to an environment that was not just unsuitable but cruel for orcas.