SeaWorld Stock Plunges As Blackfish Backlash Takes Hold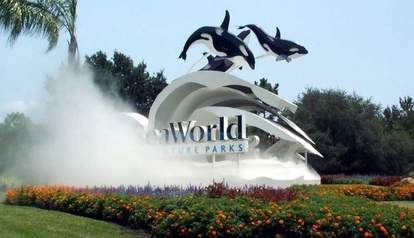 <p><a class="redactor-added-link" href="http://www.floridabestvillas.com/blog/english/files/2012/11/Sea-World-Sign.jpg">floridabestvillas</a></p>
First the consumers spoke out against SeaWorld, and now Wall Street is speaking.
SeaWorld Entertainment, Inc. (SEAS)'s stock took a dive Wednesday, in response to the company's announcement of low second-quarter earnings. Analysts polled by Thomson Reuters had estimated that SeaWorld's earnings would amount to 59 cents per share in the second quarter, but the company fell short, reporting 43 cents a share instead.
"Today is a great victory for dolphins and humanity -- it also shows that socially conscious films like 'Blackfish' and 'The Cove' have power to change the World. I've been waiting for this day for ten years," says Louie Psihoyos, the director of "The Cove." "There will be no recovering for [SeaWorld] now -- at least not while they have dolphins in their concrete bathtubs. "
As the Orlando Sentinel reports, although weather and the timing of the Easter holiday worked in the park's favor, overall attendance bumped up just 0.3 percent -- and the guests who did visit spent less money. The total revenue for the most recent quarter was $405.2 million, a decrease of 1 percent compared to the company's earnings in the same quarter last year.
[By 11:30 a.m. eastern Wednesday, SeaWorld's stock (NYSE:SEAS) fell dramatically, diving roughly 30 percent; via Yahoo]
According to Business Insider:
SeaWorld expects revenue to decline 6% to 7% over last year, which contrasts sharply with current Wall Street expectations for an increase of 3%. The company also expects adjusted EBITDA, or earnings before interest, tax, depreciation, and amortization, to decline 14%-16% from a year ago.
Mad Money's Jim Cramer called the collapse in SeaWorld's earnings "complete" and "astounding."
SeaWorld's market cap stood at $3.26 billion on August 23rd, 2013 -- the day that "Blackfish" first aired on CNN. Since then, $1.56 billion in market cap has been entirely wiped out.
SeaWorld CEO Jim Atchison omitted any reference to "Blackfish" or the growing outrage against orca captivity in a statement released today. But the Orlando Sentinel reports that "SeaWorld said it also believes attendance was impacted by media attention on legislation in California to bar captive-killer-whale shows."
Today, a number of equity research firms are downgrading their already negative outlooks. Eva Dimensions, Ford Equity Research and Thomson Reuters are all bearishly pushing sell recommendations. Last week, market analysts at TheStreet had this to say:
We rate SEAWORLD ENTERTAINMENT INC (SEAS) a SELL. This is driven by multiple weaknesses, which we believe should have a greater impact than any strengths, and could make it more difficult for investors to achieve positive results compared to most of the stocks we cover. The company's weaknesses can be seen in multiple areas, such as its deteriorating net income, generally high debt management risk, disappointing return on equity, poor profit margins and generally disappointing historical performance in the stock itself.
This stock slump is just another disaster in a series of major hits on SeaWorld, with long-term partner Southwest Airlines cutting ties with the aquarium two weeks ago.
This story has been updated to include additional information about SeaWorld's market cap.