SeaWorld announced its third quarter earnings on Wednesday, presenting shareholders with a dismal look at how the company's been faring lately. Compared to the same period last year, SeaWorld's net income is down 28 percent, and attendance dropped from 8.9 million to 8.4 million.
Many have pointed to the documentary "Blackfish" for the company's near-implosion. And, when you look at the numbers, it certainly seems to have had an effect. This simple graph, which dates back to the company's initial public offering on April 19, 2013, explains it all: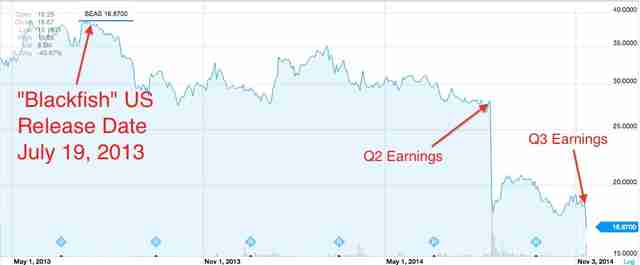 In fact, the stocks have fallen 51 percent since the film's premiere.
The earlier dip on the chart labeled "Q2 Earnings" happened on August 13, when the stock took a huge hit in response to SeaWorld's second quarter earnings report. In one day, its stock (SEAS) fell by over a third.
Now, SEAS is at an all-time low. On Wednesday, prices fell as much as 11 percent, hitting $16.16 per share. A five-day chart illustrates the decline: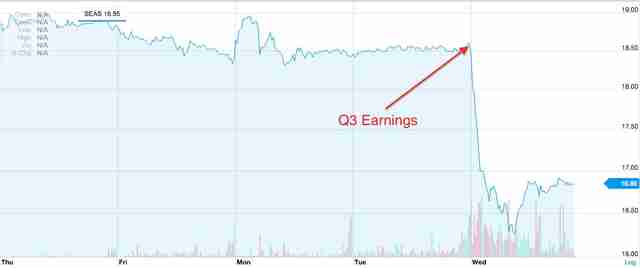 While the company's market cap was valued at $2.5 billion at the time of its IPO in 2013, that number has fallen as low as $1.54 billion.