SeaWorld Still Supports 'Research' Papers That Advocate For Wild Orca Capture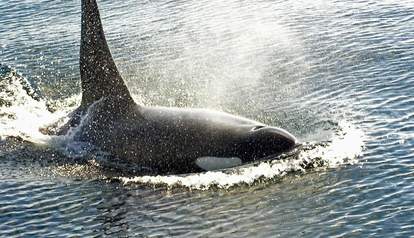 While the company's stock plunges amid backlash against the practice of keeping orca whales in captivity, it seems that SeaWorld still has no problem with capturing orcas from the wild -- in fact, they even flaunt this fact on their website.
Every institution has a web page that lists its staff research - papers written by employees of the park, most often funded by SeaWorld - that claims to be a testament to the park's "commitment to animal welfare":
These studies on killer whales showcase SeaWorld's larger commitment to animal welfare and conservation. Our parks provide a unique opportunity for SeaWorld and affiliated scientists and researchers to examine killer whales up close to better understand these animals.
But, as Twitter user Julia Walmsley pointed out, this still includes a paper detailing the capture of orcas from the wild - a practice that has widely deemed inhumane. SeaWorld's research page includes:
While SeaWorld no longer participates directly in wild captures, plenty of other institutions do. Russian fishermen just recently captured two whales - and it's possible that research like this only helped them.
SeaWorld's orca "research" has been called into question before. While the company says that it has published more than 30 studies specific to killer whales - this statistic is over the past 50 years. This rounds out to an average of 0.6 papers each year. Meanwhile, orca researchers that study whale populations in the wild are churning out papers.
Last week, SeaWorld pledged $10 million towards research on wild orca populations under threat, particularly whales in the Pacific northwest. Ironically, this is the same population that's been struggling to recover after SeaWorld's wild captures in the 1970s and 80s decimated their numbers.