SeaWorld May Have Fired Longtime Exec To Cover Up Spying
SeaWorld allegedly fired one of its top executives last year in an effort to keep its spying program under wraps, a source has told The Dodo.
On Thursday, SeaWorld admitted that it had authorized employees to lie about their names and spy on animal welfare groups concerned about the treatment of the parks' animals. But the source, who is close to SeaWorld but asked not to be named out of fear of retribution by the company, said that the recent departure of vice president of communications Fred Jacobs was an attempt by SeaWorld to cover up the story.
PETA and several other welfare groups first accused SeaWorld of using a spy, Paul T. McCombe, to infiltrate the animal activist community last July. McCombe, a human resources employee at SeaWorld, used a false name and the address of SeaWorld's security director to craft a fake identity and spy on the groups.
Paul T. McCombe at a rally (left) and in a personal photo (right).PETA
Paul T. McCombe at a rally (left) and in a personal photo (right).

| PETA
McCombe seemed intent on inciting the activists to violence. "There were a number of red flags relating to this individual," Lindsay Rajt, spokesperson for PETA, told The Dodo at the time. "Any genuine animal advocate is not on social media saying things like, 'Burn SeaWorld to the ground and drain the tanks.'"
PETA later sued the city of Pasadena over records related to the incident. "When PETA sued them [the city], and they [SeaWorld] knew that this was going to come out, they tried to tie up their loose ends and fired Fred Jacobs to make sure people couldn't get access to him," the source said.
Jacobs departed the company suddenly last December after 25 years. At the time, SeaWorld said he resigned but no reason was given for the departure.
"He is the one who gave the directives to put the moles into PETA and other animal activist groups," the source said. "Only one [spy] got caught, but there was more than one."
"We are focused on the safety of our team members, guests and animals, and beyond that we do not comment on our security operations," Jacobs said in a statement when news of the spy broke in July, before his departure. "This is a responsibility that we take very seriously, especially as animal rights groups have become increasingly extreme in their rhetoric and tactics."
McCombe at a rally for Voice of the OrcasVoice of the Orcas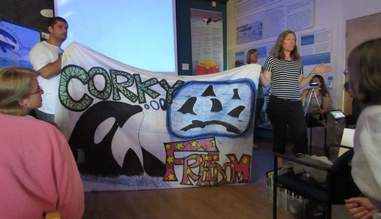 McCombe at a rally for Voice of the Orcas

| Voice of the Orcas
Aimée Jeansonne Becka, senior director for corporate communications at SeaWorld, told The Dodo that the parks would not comment on the spying situation beyond the released statement as it related to "confidential business information," but that Jacobs resigned and was not fired.
The source also told The Dodo that Jacobs was the one who directed McCombe to use the director of security's address as a false address. "Fred Jacobs authorized that," the person said.
"SeaWorld tried to get rid of him [Jacobs] to eliminate the loose ends," the source said, adding that Thursday's statement of guilt came only "when it became clear that they could not avoid being caught for the moles that they paid to infiltrate [the animal welfare groups]."
The spying wasn't the first time SeaWorld used questionable tactics to silence opponents. Last year, when former trainer-turned-SeaWorld critic John Hargrove released a book detailing his experiences at SeaWorld, the company released a years-old video of Hargrove drunk and using racial slurs in an effort to discredit him.
Hargrove, who has publicly apologized for the video, told The Dodo on Thursday that Jacobs was the one who released the video and sent it directly to the media himself - an unusual move for a VP at a billion-dollar company.
"He called me a liar and said I lied about food deprivation and lied in Blackfish and of course doesn't say how I was lying," Hargrove said. "You can't just publicly call someone a liar in the middle of their book tour when there's proof in the animal training records ... proof we used food deprivation all the time."
"It was alleged that Fred Jacobs was fired," Hargrove said. "They didn't make a big announcement. And then he wasn't allowed to answer questions from reporters."
"It's obvious that they tried to sneak that away from the public," he added.
In Thursday's statement, SeaWorld said that it had directed management to end the spying practice, which it says was a response to "credible threats."
McCombe at a protest.PETA
McCombe at a protest.

| PETA
"The security and well-being of our employees, customers and animals remain at the forefront of our business practices," Joel Manby, CEO of SeaWorld, said in the statement.
The source said that the statement was released "only because it was about to come out."
"What's key is that he never apologizes for it," the source said of Manby's statement.
SeaWorld also admitted that McCombe, who had disappeared from the spotlight since the accusations surfaced, was still employed by the company and had returned to work despite his involvement in the spying incident. Jacobs was not mentioned.
"You fire Fred Jacobs but you keep this guy on," the source said. "They made him vanish for a while so no one could get ahold of him, like some savvy reporter."
"You got caught with your dirty hands, and this was your very weak attempt to get out of it.'"
To read more about SeaWorld's allegedly "hush-hush" work culture, click here.