SeaWorld's annual meeting took place this week online to avoid controversy.
Good luck. As long as SeaWorld continuously dodges the concerns of people worried about its captive animals, like orcas and dolphins who express unhealthy behaviors and experience shorter life spans in holding tanks, controversy will be ever-present.
At Wednesday's meeting, CEO Joel Manby made the controversial claim that SeaWorld's captive orcas, who live in tanks that feel for them like the size of small swimming pool, would die if released to sea pens. Sea pens are sectioned-off wildlife refuges in the ocean.
But SeaWorld, which was originally conceived of as an underwater restaurant, is just wrong. It is possible to keep orcas in the natural waters sea pens offer, a marine animal expert told the New York Post. The expert is Jean-Michel Cousteau, who has trained captive marine mammals to be successfully released back into the wild, including Keiko of "Free Willy" fame, and dolphins who were kept in a swimming pool for years.
Even if SeaWorld is actually concerned about the inability of its orcas to cope with the natural water they've never touched, at the very least, SeaWorld could promise to stop breeding the orcas they think are incapable of living in the wild. Among other problems, SeaWorld's breeding program results in mother-son incest.
"The problem I have with SeaWorld is they are looking for all kinds of excuses to keep doing what they are doing," Cousteau said.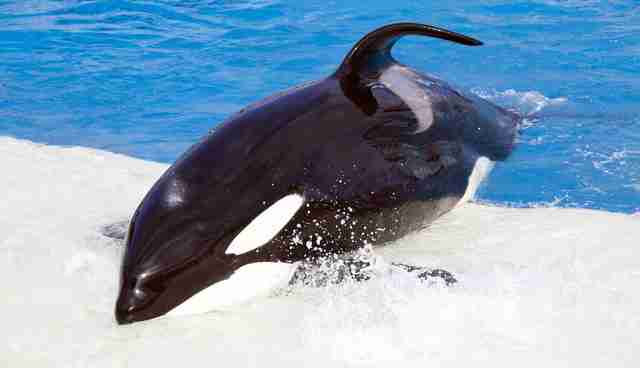 Animal activists are definitely inclined to agree. PETA had planned to point out to shareholders at the meeting - before they were shut out of the online system - that "if SeaWorld cared about orcas, as it likes to claim, it would stop its disgusting and unnatural inbreeding program." PETA urged SeaWorld to transform its amusement parks into coastal sanctuaries, where orcas could "swim in ocean water instead of in chemically treated waste water, hear and answer the calls of their extended families, and begin to live truly as orcas in a protected area of the ocean," PETA wrote in an email statement to The Dodo.
Experts and activists agree - SeaWorld is willing to say anything to cling onto a way of treating animals that is going quickly out of style. And one thing is for sure: For an animal meant to be in the wild, life in captivity isn't really a life at all.