The Dodo has taken the liberty of correcting the claims made by Lara Croft, a SeaWorld veterinarian, and Pedro Ramos-Navarrete, a member of the company's animal rescue team.
"Our whales are healthy."
Multiple recorded injuries and wounds experienced by orca whales in SeaWorld's care refute this claim. The whales have reportedly suffered physical injuries from chewing on metal grates, overexposure to sun and interactions with aggressive whales. One such example was spotted by orca scientist Ingrid Visser, Ph.D., who visited the park in 2012 and observed a gruesome gash on the lower mandible of a whale named Nakai. The wound was allegedly the result of a clash with another whale.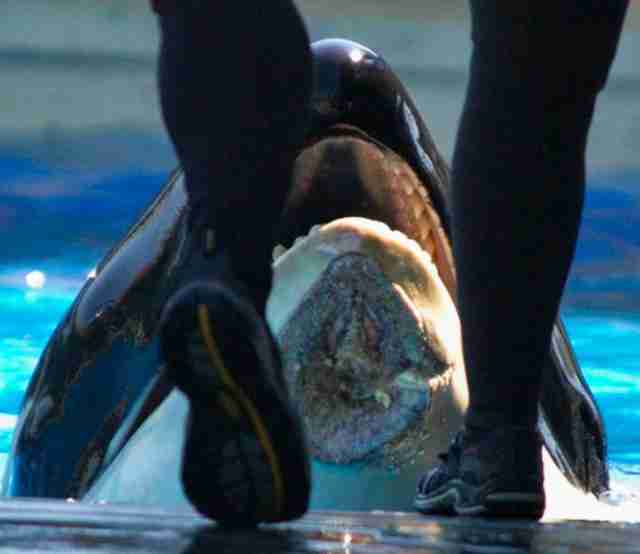 "I wouldn't work here if they weren't."
Thriving, that is. Yet dozens of orca whale trainers have left the park in protest of the practice of keeping orca whales in captivity, many of them becoming outspoken activists against SeaWorld. One trainer recently described the company as having a "cult-like" atmosphere in which he felt obliged to stay in order to ensure the animals were being properly cared for.
"Government research shows they live just as long as whales in the wild."
The country's foremost oceans agency, the National Oceanic and Atmospheric Administration, reports that wild male orca whales typically live to 30 years old but can reach age 60, and females typically live to 50 years old by can reach 100 in the Pacific Northwest, where many of SeaWorld's early whales were caught. Marine mammal scientist Naomi Rose has explained that SeaWorld is "cherry picking data" when it claims that its whales live comparable life spans to those in the wild.
In contrast, SeaWorld representatives have been filmed repeatedly misrepresenting the age of orca whales in the wild.
"We love them."
As the famous Richard Bach line goes, "If you love someone, set them free."