Ex Trainers Say SeaWorld's Lying About Tilikum's Health
On Thursday, SeaWorld announced an historic decision to end breeding in its captive orca program. While the change is a huge step forward for SeaWorld, it remains to be seen whether the park really has changed its stripes - and it looks like SeaWorld is still lying about its orcas' health.
Following last week's news that its most famous orca, Tilikum, was ailing due to a supposed lung infection, the park released a PR video about his current condition. In it, SeaWorld blames the marine park it purchased Tilikum from for his famously damaged teeth, which have broken off into tiny stubs.
"Tili came from Sealand of the Pacific," Kelly Flaherty Clark, SeaWorld's director of animal training, says in the clip. "His teeth, they looked a lot like they do today. They needed to be cared for. So we started caring for his teeth as soon as he would allow us to train that behavior."
But several former orca trainers say that SeaWorld is lying and is solely responsible for what the park itself describes as Tilikum's "chronic teeth issues."
"It's preposterous that Kelly Flaherty-Clark would say that Tilikum's teeth were in much the same condition when he arrived in Orlando," former orca trainer Steve Huxter, who worked with Tilikum at Sealand of the Pacific before the park closed down in the early 1990s, told The Dodo. "Tilikum's teeth were in perfect condition when he was transferred [to SeaWorld] in 1992."
Huxter also said that Flaherty Clark should know this, as she spent four to six weeks working with Huxter at Sealand. "Kelly was at Sealand prior to Tilikum's transfer, to work with me and my staff in preparing the killer whales for transfer," he said. SeaWorld did not respond to a request for comment.
Former SeaWorld trainers have also spoken out against the park's claim. Dean Gommersall, a marine mammal trainer who worked at SeaWorld Orlando when Tilikum arrived at the park in 1992, shared two photos on Facebook purportedly showing Tilikum after his arrival at SeaWorld, and then in recent years. Tilikum, who can be identified in the earlier image by the unique double point on his eye patch, appears to have had healthy, pointed teeth when he arrived.
It's long been known that SeaWorld's captive program can wreak havoc on orcas' teeth. Stressed from captivity and boredom, the orcas will often gnaw on the edges of their tanks, fracturing their long, sharp teeth.
The damage isn't just cosmetic. The fractures expose the tooth pulp, which can become a portal for bacteria to enter the bloodstream and lead to heart problems, pneumonia, sepsis and death. SeaWorld workers perform a "root canal" of sorts to clean out the tissue. For the rest of their lives, the injured orcas, like Tilikum, must undergo daily cleanings to flush out the exposed tooth stubs - a procedure that can be seen in SeaWorld's PR video.
"It's not a pleasant experience," Dr. Heather Rally, a marine mammal veterinarian who works with PETA, told The Dodo last year about the presumably painful daily cleanings. "It takes a lot of time to train these animals to endure something like this."
This isn't the first time SeaWorld has lied about its orcas' teeth. The park has said that poor dentition is normal in wild orcas, but wild orcas are rarely found with teeth like Tilikum's. The one exception seems to be a small subpopulation of wild orcas that feeds on hard-skinned rays and skates, and even then the damage isn't as severe.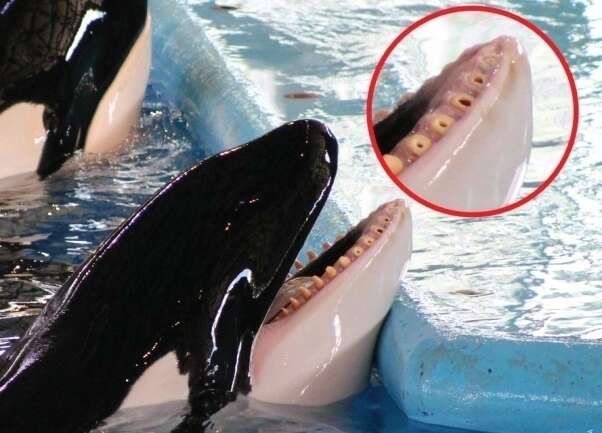 SeaWorld also reveals in the video that, despite his illness, Tilikum is still performing in the park's orca shows - though the company implied that Tilikum was the one deciding to participate.
"We tend to gear our day towards doing the things that he really seems like he's interested in at any point in that," Daniel Richardville, an animal training supervisor, says in the video. "So, based on his health and based on his demeanor during the day, there are certain things that might be super fun for him. So if he's ready to go out and do a show and get people wet, I'm excited to do that with him. If he's more excited to just hang out and get a backrub and play with his one of his favorite toys, guess what we're gonna be doing."
SeaWorld also says in the video that the bacteria found in Tilikum's lungs is found in wild cetaceans - though, as the park has not released the name of the bacteria, it's impossible to confirm whether this is true. What is known is that infections seem to be more common in captive marine mammals due to poor water quality and stress - like the infection that killed Tilikum's 18-year-old daughter, Unna, earlier this year.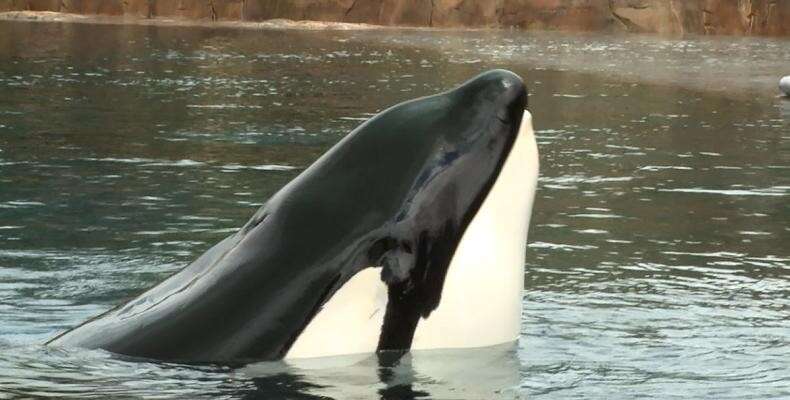 Of course, according to SeaWorld, Tilikum is better off in his tiny captive tank than he would have been if he'd never been captured. "If Tilikum would have shown up with this disease in the wild, there's no doubt in my mind that he'd have been gone a long time ago," Dr. Scott Gearhart, a veterinarian with SeaWorld, says.
Whatever the cause, Tilikum's health isn't looking good. "I wish I could say I was tremendously optimistic about Tilikum and his future," Gearhart says, tearing up. "But he has a disease which is chronic and progressive and at some point might cause his death. We have not found a cure for this disease at this point."
According to SeaWorld, Tilikum has been receiving top-notch veterinary care. "[With] the ups and downs of the life that we've been living with him, it's been our duty to make sure that we give him the utmost care that we possibly can," Richardville says.
But that's not how those outside SeaWorld's inner circle see it. "What is happening to Tili right now is so sad and unnecessary," Gommersall, the former SeaWorld trainer, wrote on Facebook. "Yet they still spew lies."