Another Former SeaWorld Employee Speaks Out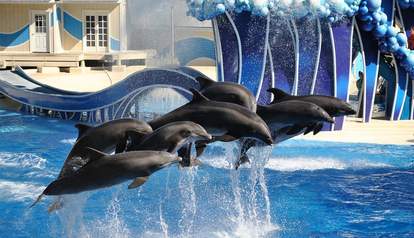 <p>Christian Benseler / <a href="https://www.flickr.com/photos/chrisbenseler/15240300294/" target="_blank">Flickr</a> (<a href="https://creativecommons.org/licenses/by/2.0/" target="_blank">CC BY 2.0</a>)</p>
Mary Winters, former SeaWorld employee as a "Sea Maid," reflects on powerful moments with cetaceans, advises current trainers and challenges American culture to reject captivity. Interview and edited for length and clarity by Zoie Wesenberg, IMMP intern and Mary Winter's daughter.
Photo: Mary Winters
Zoie Wesenberg: When did you work at SeaWorld?
Mary Winters: Just after graduating High School, from 1977 to 1982.
What does a Sea Maid's job entail?
We mainly did underwater ballet shows with dolphins and sea lions. I eventually did shows with pilot whales and dolphins at the lagoon, which is attached to the bay. My act was to pretend I was an audience member who volunteered to play a concentration game with the dolphins, and at the end I "accidentally" fell into the lagoon. I would then be swept up by the dolphins and, later in the season, by pilot whales. Their job was to bring me back to the trainer's stage.
I would ride the backs of the dolphins like water skis around the lagoon, waving. Sometimes they would play tricks on me. One time the dolphins just sunk down into the water in the middle of the ride, and I went down right along with them! Other times they would gradually separate, causing me to to practically do the splits - I swear, they had a sense of humor!
Only a handful of Sea Maids did this show, it took some acting and athleticism. Some years into my time at SeaWorld, they brought white Russian beluga whales and we launched a show called "Belinda Boogy," where we danced and sang with the whales; [laughs] it was quite cheesy. I helped out in the Shamu shows, although I never swam with the orcas.
Read the rest of the interview at We Are Sonar.
Want to see more stories like this? Support Sonar with a tax-deductible donation.