SeaWorld Earnings PLUMMET As Outrage Over Orca Treatment Grows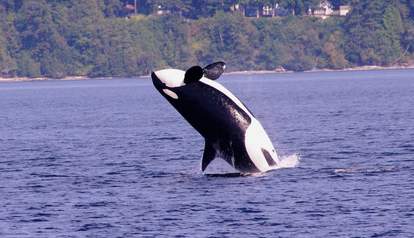 <p>Heather Murphy/Nature's Keeper Photography</p>
SeaWorld's economic woes just kept growing Wednesday as the public increasingly turns against its mistreatment of orcas in captivity.
SeaWorld Entertainment, Inc. reported its third quarter earnings on Wednesday morning, telling shareholders its net income was $87.2 million - down from $120.7 million last year, marking a 28 percent decline.
Attendance is low as well when compared to last year - 8.4 million visitors down from 8.9 million a year ago.
Revenue also dropped 8 percent, to $495.8 million from $538.4 million a year ago. In a statement, SeaWorld blamed the attendance drop on "a combination of factors including negative media attention in California along with a challenging competitive environment, particularly in Florida."
After the news broke, SeaWorld's stock promptly dropped as much as 11 percent to $16.16 per share - its lowest price ever.
(Google Finance)
In May, SeaWorld reported a 13 percent drop in attendance, which the company blamed on bad weather and the timing of the Easter holiday. And when California State Assemblyman Richard Bloom announced the proposal of a bill that would outlaw all captive orca shows in his state back in March, SeaWorld's stock dropped by 7 percent.
In a statement, SeaWorld's CEO Jim Atchison said:
"Consistent with the update we provided in August, the attendance trends the Company experienced in the latter part of the second quarter continued into the third quarter. Clearly 2014 has been a challenging year, but I am confident we are taking the necessary steps to address our near term challenges and position the Company to deliver value over the long term."
Business Insider reports that the company expects revenue to decline 6 to 7 percent against last year, and revenue to fall about 6.4 percent to $1.37 billion in 2014. And Bloomberg notes that SeaWorld shares fell 3.5 percent to $17.94 this morning in early trading in New York.
In August 2013, SeaWorld's market cap stood at $3.26 billion. On Wednesday morning, it stood at $1.54 billion.
This is only the latest in a growing train of financial woes for SeaWorld Entertainment, Inc.
In August, SeaWorld finally admitted in a report to shareholders that animal activism sparked by the documentary "Blackfish," which detailed mistreatment of orca whales at the park and the 2010 death of a trainer, had hurt attendance at its parks. SEAS promptly lost a third of its value.
In October, SEAS experienced its lowest closing price at $17.92, followed by its lowest point overall. On Monday, SEAS fell 2.3 percent to $17.92 - its lowest closing price since the April 2013 IPO, which opened at $27 per share.
This is what a graph of SEAS over the past year looks like:

(Google Finance)
Update 10 a.m. -SeaWorld CEO Jim Atchison hosted a conference call with investors Wednesday morning to explain the third quarter earnings.
"Clearly 2014 has failed to meet our expectations," Atchison said during the call. He said that the company has increased aggressive marketing efforts to address "recent issues affecting our company" and to ensure that "the truth is being told."
He also addressed recent pushback from animal advocates.
"The attacks we've had on our brand..from the animal rights community we don't see as lingering or lasting."
Atchison also said that SeaWorld is moving forward with its partners in the Middle East for a multi-park development plan. The first stage of development is set to open in 2020. The company is also exploring ways to expand to Asia and other international markets.