SeaWorld Earnings Drop In Fourth Quarter Amid "Blackfish" Backlash [Updated]
SeaWorld Entertainment announced its long-anticipated fourth-quarter earnings, reporting a loss of 13 cents a share and revenue of $272 million. This is down from $1.33 per share and a total revenue of $538.40 million that the company reported in the third quarter of 2013. The report was released in the wake of the media frenzy created by the CNN documentary "Blackfish," which investigated and exposed the realities of captive orcas at amusement parks.
The company also reports that attendance in the fiscal year for 2013 declined by 4.1 percent from 24.4 million guests in 2012 to 23.4 million guests in 2013. It did report a total increase in earning, when compared with the same period the year before. SeaWorld's stock dropped 2.66 percent on the day the company announced its quarter earnings announcement.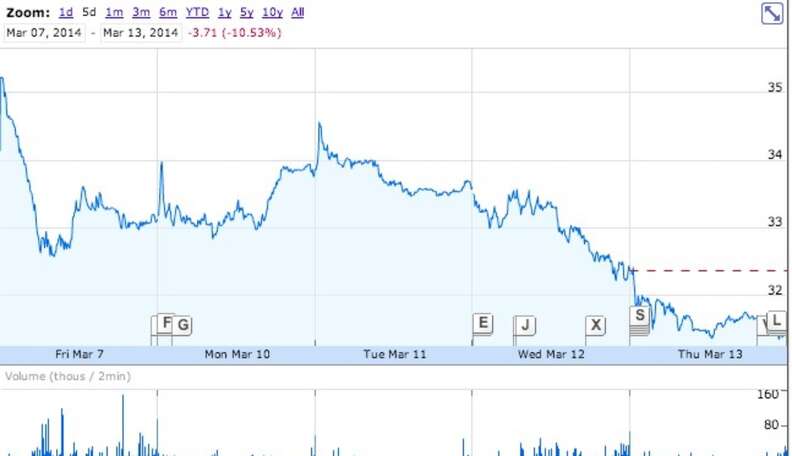 SeaWorld Entertainment Inc (NYSE:SEAS) over the past five days.
Last week the stock took a seven percent dip after a bill was proposed that would outlaw orca shows in California. SeaWorld San Diego is the only park that keeps captive orcas in the state.
SeaWorld first went public in April of 2013, through the investment firm Blackstone Group -- which has since sold enough shares to lose a majority stake in the company. And the park has seen other issues, as The Dodo reported in January:
Attendance for the first nine months of 2013 was down 4.7 percent compared with the first nine months of 2012, from 19.8 million people to 18.9 million. In a conference call with shareholders in November, [Jim] Atchison, SeaWorld's CEO, said the company was planning on a slight fall in attendance due to ticket price increases, and that bad weather in July drove the numbers down. He said the company drove "higher quality attendance," meaning guests were willing to spend more, attendance took a hit down even considering SeaWorld Orlando, the company's signature park, opened a brand new Antarctica-themed area in May that had been in the works for nearly two years.
For more thoughts on SeaWorld, check out the live Dodo feed below:
UPDATE:
According to UT San Diego, the company's CEO, Jim Atchison, weighed in on the impact of "Blackfish" during a conference call about the announcement.
"As much as we're asked that, we can see no noticeable impact on our business," he said. "The movie in some ways has actually made perhaps more interest in marine mammal parks and actually even about us, so we've seen that reflected through certain visitor profiles and certain guest comments and things we egt."
But MarketWatch noted that "Blackfish" may have drawn negative attention from stockholders.
SeaWorld has faced negative publicity following the death of a killer whale trainer in 2010 and the 2013 release of the documentary film "Blackfish" that focuses on the accidental deaths of SeaWorld trainers and the treatment of the killer whales held in captivity and trained to perform tricks to entertain audiences.
NASDAQ posted its expectations for the future of SeaWorld's stock:
For fiscal year 2014, SeaWorld projects revenue of $1.49 billion to $1.52 billion, while analysts currently expect $1.53 billion. SeaWorld stock closed Thursday at $31.51, down $0.86 or 2.66%, on a volume of 1.2 million shares on the NYSE. In after hours, the stock dropped $0.11 or 0.35% at $31.40.
The internet reacted to the announcement, too -- here are some of the best ones:
Retired chair and CEO of Disney: