SeaWorld CEO Provokes Protest Outside Waldorf Astoria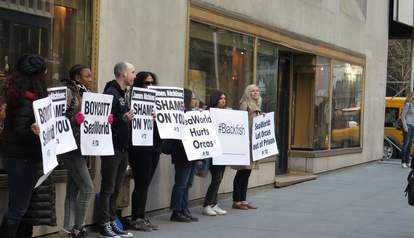 A wall of protesters appeared on Lexington Ave. in New York City on Thursday, lined up outside the Waldorf Astoria Hotel. Bearing signs emblazoned with orca whales, they were waiting for the leaders of a $1.5 billion company that they say is abusing its captive animals. Jim Atchison and James Heaney, CEO and CFO of SeaWorld Entertainment, Inc., respectively, were expected to arrive at any minute.
Atchison and Heaney, who together announced a 28 percent income dip during a shareholder conference call just one day before, were scheduled to speak at Wells Fargo's "Technology, Media and Telecom" conference at the hotel. Protesters from the animal welfare group PETA were on sight to meet them.
(Melissa Cronin, The Dodo)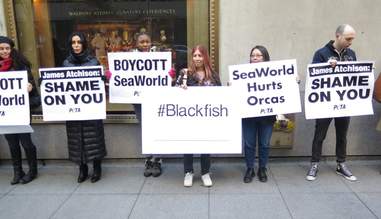 "With all this news of SeaWorld's stock tanking and attendance plummeting, the CEO and CFO should be worried," Ashley Byrne, a campaign specialist with PETA, told The Dodo. "SeaWorld should realize that the way to address these issues is to release its orcas to seaside sanctuaries. That is the way to do the right thing and modernize."(Melissa Cronin, The Dodo)
Atchison and Heany never appeared at the front entrance; the dozen or so protesters out front suspected that they'd entered through a back entrance. The conference was closed to the press and representatives of the organization declined to comment on the presence of SeaWorld leaders.
But Michael Riley, an Upper East Side resident who protested outside the Waldorf, said that just being there was enough.
"It's important to always tell leadership of organizations what people actually think," Riley told The Dodo. "That's the only way organizations can see that there is strong opposition."
This isn't the first time New York City has seen SeaWorld protesters. At last year's iconic Thanksgiving Macy's Day Parade, a 12-year-old girl jumped the barrier to protest SeaWorld's float, making national news. SeaWorld is planning another float this year, which activists say they will protest as well.
Though New York currently has no captive orca whales, a bill to ban the practice is currently advancing through the state's legislature. Dubbed the New York "Blackfish" bill, the measure passed the Standing Committee on Environmental Conservation in March. Sen. Greg Ball, who proposed the bill, said it was a symbolic gesture to show that New York does not support marine parks with captive orcas. He said at the time:
"The documentary 'Blackfish' opened a lot of eyes to the conditions orca whales are often subject to when they are held captive. These are huge, intelligent and majestic creatures and it is an atrocity that they sit captive in oversized tubs. We want to send a message as a state that we will never allow this type of cruelty in New York."
Clearly, the protesters outside of the Waldorf on Thursday aren't the only New Yorkers who feel that way.