SeaWorld Just Announced A Huge Drop In Attendance
People still don't want to go to SeaWorld.
The company announced a steep 7.6 percent drop in attendance in its second quarter earnings report released on Thursday, a notable decline over the same period in 2016. Attendance fell from 6.478 million in 2015 to 5.984 million in 2016, a loss of nearly half a million guests. Attendance for the full first half of the year is also down by 4.2 percent.
Revenue dropped 5.2 percent for the second quarter, from $391.6 million in 2015 to $371.1 million in 2016, and by 2.4 percent for the first six months of the year. The company's EBITDA (earnings before interest, taxes, depreciation and amortization) is down 16.4 percent for the second quarter, and 19.2 percent for the first half of the year - a loss of $18.5 million.
SeaWorld's stock plummeted to around $12.7 per share on Thursday, the lowest point since SeaWorld went public in 2013. For what appears to be the third yearin a row, SeaWorld blamed the weather for its declining performance, as well as poorly timed holidays.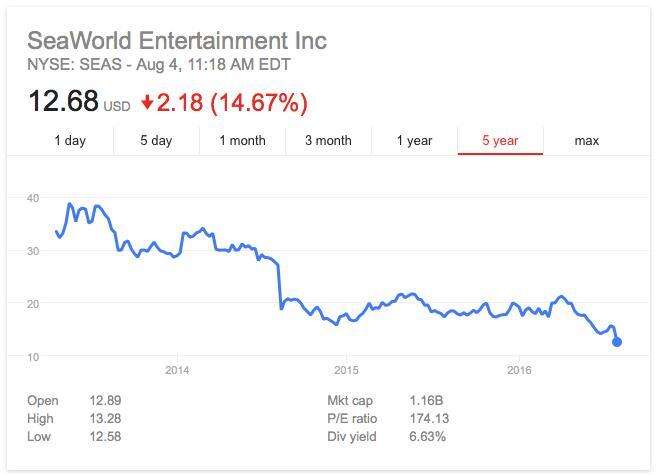 SeaWorld's been sinking ever since the 2013 release of "Blackfish," which brought to light numerous concerns over the welfare of SeaWorld's orcas and other animals. Instead of addressing them, SeaWorld has consistently claimed that the film was lying.
In recent months, SeaWorld seems to have caught on to public sentiment - in March, the company announced it would be ending its orca breeding program, spelling an eventual end to orcas in captivity in the U.S. However, some have wondered whether it's too little, too late. The company has also ignored pleas from the public to move its remaining orcas to a sanctuary, dubiously arguing that it would be a "death sentence" for the animals.
Of course, the orcas are hardly thriving in SeaWorld's tanks. On Monday, the company announced that Kasatka, a roughly 40-year-old orca who was captured off the coast of Iceland as a calf, was being treated for a "bacterial respiratory infection."
As with Tilikum's mysterious "respiratory infection," SeaWorld did not announce specifically what the illness was - and like Kasatka, Tilikum's illness was announced within days of a quarterly earnings report. Captive cetaceans are at an increased risk of certain infections, due to poor water quality and the stress of captivity.
SeaWorld also blamed Kasatka's old age for her reported illness. Yet while SeaWorld claims that wild orcas live an average of 30 years for females and 19 years for males - a number in keeping with the parks' frequent early deaths - orca life spans are actually around 50 years for females and 30 for males, with many living decades longer, according to the National Oceanic and Atmospheric Administration.
Kasatka herself is something of a warning against keeping orcas in captivity - she's repeatedly attacked her trainers, and a video emerged of her last October apparently too "depressed" to nurse her young calf.
Of course, as long as Kasatka and her family are making money for SeaWorld, they'll likely remain right where they are, in their tiny, crowded tanks. But if SeaWorld's latest numbers are any indication, that flow of cash could be changing.