Seal Crosses The Road Every Day To Visit Seafood Restaurant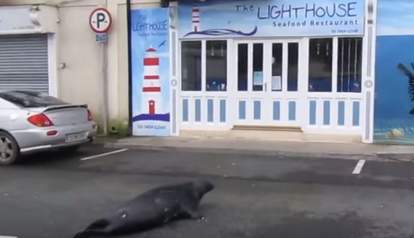 <p><a href="https://youtu.be/CeP3NtB5DQI" target="_blank">YouTube / Charlie G Vinall</a><a href="https://youtu.be/CeP3NtB5DQI"></a></p>
Not every seal is lucky enough to live near a seafood restaurant.
Or maybe that's how a seal in Ireland worked out his living arrangements - ensuring the most important amenity of all is within crawling distance.
In any case, this seal's daily shimmy for fresh fish, as seen in a video posted to YouTube this week, is remarkably convenient.
He just crawls out of Howth harbor, crosses the two-lane street - it's cool, people have come to expect the seal named Sammy and keep an eye out for him - and then it's a beggar's banquet at The Lighthouse Seafood Restaurant.
Well, most of the time, at least. In this clip, a restaurant employee tries to steer Sammy back into the harbor with a chair.
That's not going to work.
So the man does what he's likely had to do for ages to get Sammy to go back home. He throws a fish from the restaurant back into the harbor.
And Sammy, with a mighty plunk - Sammy is a portly seal - is gone.
But a moment later, his head pokes back out from the water's edge.
An unimpressed dog barks in his face.
But Sammy's got his eyes, once again, on the prize.
He heaves himself out of the water. And the cycle begins all over again.