Attempts at getting a quick bite didn't quite turn out as planned for this flock of seagulls.
On Friday, the Wildlife Rescue Association of British Columbia in Canada was faced with a daunting task - freeing 62 seagulls from a vat filled with tofu byproduct. The vat, located in the back of a tofu processing company in East Vancouver, had been covered with a metal, cage-like grid, the rescue association explained in a Facebook post.
As a result, when the gulls flew into the vat to feed on the byproduct, they soon became unable to escape. The grid was large enough for the birds to fly in, but too small for them to fly out once inside. According to a press release, the grid was placed on top of the vat to deter people from stealing the tofu byproduct for use as fertilizer.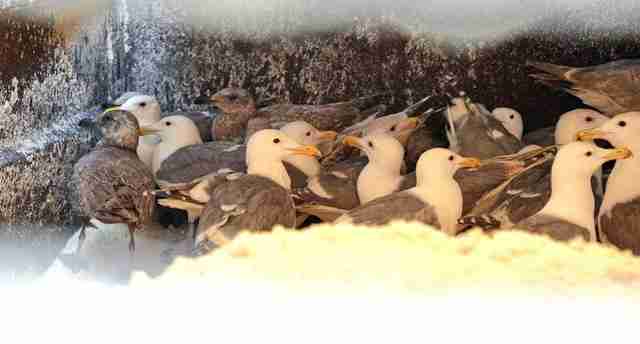 Thankfully, a joint effort made by the rescue association and British Columbia SPCA led to the birds getting out of the vat ...
The gulls were taken to the rescue association's Wildlife Hospital, where staff and volunteers worked tirelessly to make certain the birds were warm ...
... and, overall, less stressed.
While no major injuries were reported, the biggest hurdle after the rescue was over was cleaning the birds of the tofu residue lingering on their feathers and feet.
The gulls will remain at the animal hospital until their feathers are completely cleared of the byproduct, which makes their feathers damp and more likely to succumb to hypothermia if released back into the wild.
You can follow the group on Facebook to continue tracking the group's rescue efforts and progress with the gulls. Want to help the Wildlife Rescue Association of British Columbia support the gulls and other animals like this? Consider making a donation here.