Sea Turtles want you to ditch the Plastic Bags this Christmas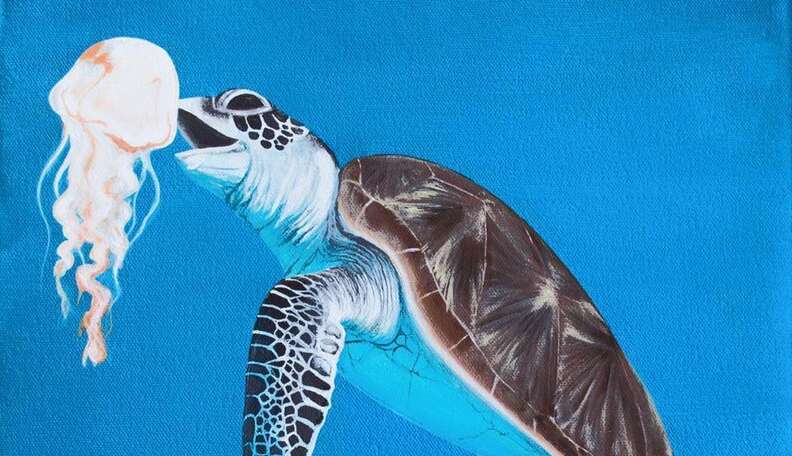 <p><a href="http://alexasmakinwaves.com/" target="_blank">Sea Turtles By Alexa</a></p>
<p><a href="http://alexasmakinwaves.com/" target="_blank">Sea Turtles By Alexa</a></p>
It's the most wonderful time of year! Christmas lights twinkle, friends and family gather and we eat way too much chocolate, but for Sea turtles, the holidays are a deadly nightmare.
Why you ask? It's all those plastic shopping bags you picked up at the mall, the grocery store, used once or twice, then sent to the landfill. In fact, only five percent of the 380 billion plastic bags Americans use every year get recycled. You may think that if you are careful about throwing away your plastic bags that will solve the problem but it's important to note that much of the plastic we find in the oceans was once in landfills. Now it floats at sea, killing sea turtles and other Marine Life.
Why exactly are Plastic Bags so Dangerous for Sea turtles?
Turtle kisses by Alexa Caskey. SeaTurtlesbyAlexa.com
It's likely that you have already read about sea turtles and their plight with plastic bags, but you probably don't know exactly why they are so deadly.
Sea Turtles are omnivores, they will eat just about anything, from fish and others small animals, to algae and plant life. One of their favorite foods is Jellyfish. To a sea turtle, it is often hard to tell the difference between these wiggly invertebrates and a plastic bag from the grocery store.
An average of 52% of all sea turtles have consumed at least one plastic bag in their lifetime. Ingestion of plastic bags can lead to digestive track blockages, drowning, starvation and the absorption of a variety of toxins that the plastic bag gathered up as it drifted around the ocean. The bags and other plastic can also pierce the turtle's intestines or turtles can get tangled in them.
Baby Turtle Blues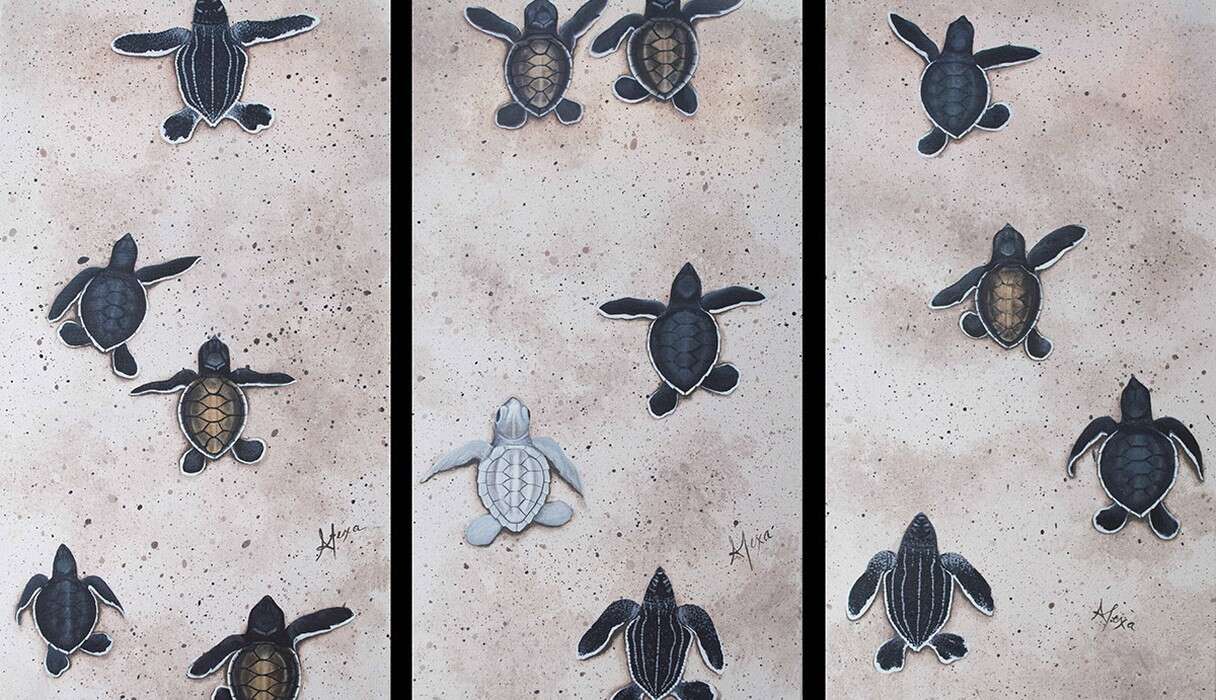 Just in case that wasn't depressing enough, scientists have found that significantly more young turtles ingest and die from plastic bags than their older, wiser peers. Another interesting complexity is that older, coastal turtles in high polluted areas learn the difference between a tasty jellyfish and a deadly plastic bag, while younger turtles and those in isolated areas are more likely to eat consume them without telling the difference.
This is having devastating impacts on a species that were already endangered from poaching, artificial beach lighting, climate change and a wide range of other dangers.
What you can do?
Now that you are bummed out, you are probably wondering what on earth you as one person could possibly do to save these adorable members of a variety of marine ecosystems. The first is simple, go grab those reusable bags you keep forgetting. Then use some in your car, another couple for your gym bag, put one around your keys and then put the rest to use in your purse. Even if it's only a bag or two each time, the amount of plastic bags you will keep out of landfills, ocean gyres and the insides of sea turtles will add up faster than you could ever imagine.
There is still hope
Sea turtles are still far from safe from plastic bags and other single use plastics, but there has been a lot of positive change. Nantucket Island, Chicago and the entire state of Hawaii have implanted a plastic bag ban and have kept thousands of pounds of plastic out of our waterways.
There are many great conservation organizations doing everything they can to protect and understand sea turtles and their watery world. These include the Sea Turtle Conservancy, a Billion Baby Sea Turtles, Ocean Defenders, the Surfrider foundation and many others.
So give the gift of a cleaner ocean this holiday season, ditch the plastic bags and help sea turtles swim safely in our ocean for generations to come.
About the Artist Alexa Caskey is a sea turtle painter from Hawaii. Her paintings can be found around the country and she has given more than 10% of all of her proceeds to the Sea Turtle Conservancy and a variety of other conservation organizations. You can see more of her work at SeaturtlesbyAlexa.com More information about Sea turtles:
http://www.defenders.org/sea-turtles/basic-facts
http://www.conserveturtles.org/
https://www.washingtonpost.com/news/speaking-of-science/wp/2015/09/15/more-than-half-the-worlds-sea-turtles-have-eaten-plastic-new-study-claims/
http://www.futurity.org/sea-turtles-gobble-plastic-at-record-pace/