Sea Otter Learns To Use Tiny Inhaler For Her Asthma
<p> Seattle Aquarium </p>
Mishka the sea otter is making history - for being the very first sea otter to be diagnosed with asthma. The 1-year-old otter lives at the Seattle Aquarium, where she's been since January, after being rescued from a fishing net.
Her caretakers noticed she was having trouble breathing last month, right around the same time that smoke from nearby wildfires moved into the area.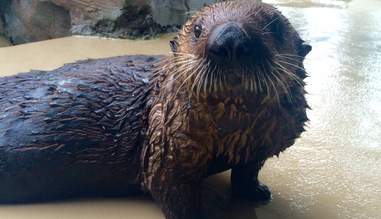 Seattle Aquarium
After listening to her chest and looking at x-rays, the aquarium's veterinarian, Dr. Lesanna Lahner, diagnosed Mishka with asthma.
Now her caretakers are using treats to train Mishka to use an inhaler to help her breathe.
Seattle Aquarium
The aquarium doesn't know for sure what caused Mishka's asthma - it could be a result of the air quality after the nearby wildfires, but it could also be caused by a lack of genetic diversity among sea otters in the Pacific Northwest.
"Washington sea otters became extinct in 1910 as a result of rampant hunting related to the maritime fur trade," the aquarium said in a press release. Otters from Alaska were introduced into the area instead - but many didn't survive that transition.
Seattle Aquarium
"Because of that, it's estimated that the sea otters on our state's coast today are descended from as few as 10 animals," the aquarium explained.
It's great that Mishka is getting the care she needs, and hopefully she'll be as healthy and happy as possible. It's sad to know, though, that her illness may indirectly be caused by us humans.