Sea Lion Pup Found Wandering Highway Gets Ride Home With Sheriff
<p> <a href="https://www.facebook.com/MendocinoSheriff/photos/pb.256614137966.-2207520000.1429809855./10152766399417967/?type=1&theater">Facebook/Mendocino Sheriff</a> </p>
Everyone rebels when they reach a certain age - and the sea lion pup Mendocino County sheriff's deputies discovered wandering along a California highway at 1 a.m. last Sunday is no exception.
"When they first saw it, they weren't sure what they saw. Once they saw what it was, they were nervous to get close," the deputies' commanding officer, Greg Stefani, told The Dodo.
But the sea lion turned out to be friendly - and lucky. "Due to the darkness and the dense fog the animal was very difficult to see and would have certainly been struck by a vehicle if the deputies had not stopped," sergeant Dustin Lorenzo said in a report.
Thirty inches long and about 20 pounds, the California sea lion pup waddled a quarter mile from his ocean home, according to the report. "Extremely friendly" with the deputies, the sea lion didn't disclose much about what he was doing there, but just rubbed against the legs of law enforcement, as they tried to figure out what, exactly, to do with him.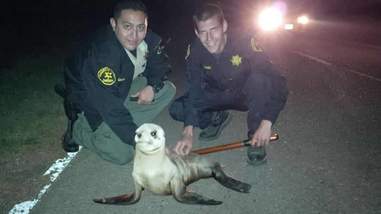 The sheriff's deputies called the Sausalito-based Marine Mammal Center, which has seen an unprecedented 330 California sea lions so far this year for rehabilitation after hundreds of starving pups washed up on shores. After determining that the sea lion was in good health, experts at the center asked the sheriff's deputies to release the sea lion pup into the ocean.
This turned out to be not so easy, as the sea lion had bonded with the deputies and tried to follow them. Eventually the deputies drove away - but they circled back to make sure the pup hadn't wandered back into the parking lot to wait for them, Stefani said. "He definitely liked people." The Mendocino County sheriff's office patrols 92 miles of coastline, so occasionally staff interact with marine mammals and rescue centers. "But this was the first time a sea lion rode in the back of a patrol car," Stefani said.
Sadly, this year has seen a surge of young sea lions a lot less lucky than this one. "We believe that the warm waters are basically pushing the prey items for the California sea lion mothers further and deeper away from the islands," Justin Viezbicke, coordinator for NOAA's California Stranding Network, told NPR in March. This leaves a lot of young sea lions on their own before they're able to find food for themselves.
Let's hope this particular sea lion is strong enough to fend for himself. Stay safe, little guy.