This morning, the organization that I represent, CAPS, launched one of the most ambitious campaigns of our fifty seven year history. Following months of painstaking research, we have today made public the findings of our undercover investigation into the world's largest aquarium brand, SEA LIFE; a U.K.-based company owned by British entertainment giant, Merlin Entertainments. The long-term investigation revealed a huge number of concerns for the animals held captive by the company, which has sites around the world, and our work going forward will be focused on ensuring that we raise as much awareness as possible on the plight of the fish, the reptiles, the amphibians and the birds held in their various sites.
First though, we must begin with the whales.
Those reading this in the U.K. may have just skipped back to the beginning of this piece after reading that sentence, to check that I am talking about the SEA LIFE centers, which are dotted up and down the country (yes, I am), and not the U.S.-based SeaWorld marine parks, which are infamous for their use of whales in shows which have come under increasing criticism in recent years (no, I am not). You may know that there have been no cetaceans (whales or dolphins) held captive in the U.K. for a number of years.
Indeed, it is often thought that the U.K. has banned the keeping of cetaceans in captivity but this is not the case. Instead, the standards that would be required to keep cetaceans legally are likely to exceed any that can practically be provided. This has, in effect, created a de facto prohibition. As such, those of us here in the U.K. have been able to watch the dramatic unfolding of the "Blackfish" saga* and the more recent moves to ban the keeping of cetaceans in captivity in Vancouver, for example, with something of a clear conscience. At least in the case of whales and dolphins, our hands are clean.
So strong is the opposition to the keeping of whales and dolphins in captivity in the U.K. that even aquariums, such as SEA LIFE, which make huge profits from holding other aquatic animals captive for their lifetimes, have the confidence to stand alongside respected marine conservation organizations on this issue and speak out boldly.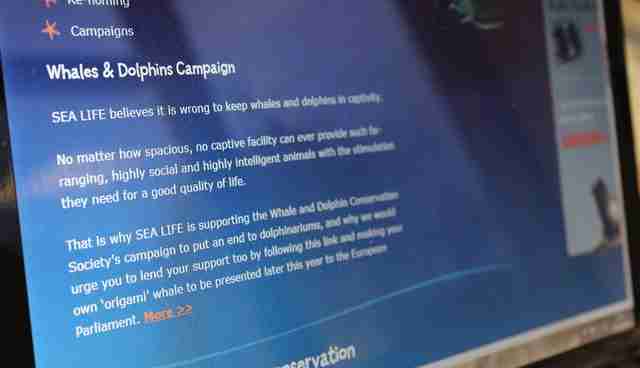 SEA LIFE claims on its website that: "[we believe] it is wrong to keep whales and dolphins in captivity. No matter how spacious, no captive facility can ever provide such far-ranging, highly social and highly intelligent animals with the stimulation they need for a good quality of life".
Regardless of your view on whether any animals should be held captive by SEA LIFE aquariums, what is clear is that SEA LIFE wants you to believe that it is firmly on the side of the cetaceans. Sadly though, this is not the case.
In 2012, SEA LIFE's parent company, Merlin, purchased the Chang Feng Ocean World Aquarium in Shanghai and quickly added it to the ever-expanding "SEA LIFE brand". There are now 47 SEA LIFE centers around the world; all controlled from Merlin's Dorset (U.K.) headquarters.
At the time that the Shanghai site was purchased by Merlin, the centerpiece of the Chang Feng center was the "Beluga Whale Theatre". Here, thrice daily, three wild-caught beluga whales (also known as "white whales") would perform demeaning circus-style tricks to an auditorium of 2,000 screaming people whilst loud music blared in the background.
Of course, SEA LIFE tells us that it is utterly opposed to the keeping of cetaceans in captivity so one might expect that, whilst the fish, turtles and other aquatic animals held by the Chang Feng center would continue to be used for profit, once Merlin took over, the belugas would be spared their daily torment. But this was not to be.
Under the SEA LIFE banner, the show went on.
During the time when SEA LIFE was encouraging its U.K. visitors to back calls to ban dolphinariums in Europe, the same company continued to rake in the profit from its beluga whale circus in China. The show went on.
During the months that SEA LIFE was publicizing its role in the opposition to the import of wild-caught beluga whales to stock U.S. aquariums, the company's own three wild-caught beluga whales continued to draw in the crowds in the SEA LIFE center in Shanghai. The show went on.
When our investigator visited the Shanghai center in March 2014, the show went on; the circus-style tricks, the screaming crowds and the loud music.
Sea Lies: Sea Life's Secret Cetacean Circus (filmed March 2014)
Interestingly, there is no mention of the belugas on any Merlin website. The weblink which should take you to the Chang Feng center website actually links to another aquarium in Shanghai which is not owned by Merlin and which does not have cetaceans. Whether this is deliberate or a (somewhat convenient) error is unclear.
It is perhaps fair to assume that animals being exploited don't care about the birthplace of their tormentors. I am usually loathe to associate any type of animal exploitation with any particular "nationality" (as this often leads to unhelpful stereotypes and sometimes xenophobic, or even racist, reactions which are damaging in themselves and do nothing to relieve animal suffering). In this instance, however, I do think that it is pertinent to recognize that Merlin is a British company.
Whilst there is a long way to go and a huge amount of animal suffering occurs in the U.K. on a daily basis, we could argue that cetaceans haven't suffered at our hands for many years.
I know for those people that campaigned tirelessly for an end to dolphinariums in this country, that when these cruel aquatic circuses were no more, this was (rightly) a point of significant pride. It was a long-fought battle and a well-deserved victory for both the tireless campaigners and, of course, the animals.
And now we have Merlin maintaining and perpetuating the exploitation that we have so long rejected here on home soil in its overseas center. All in the name of the company's expanding commercial empire and while continuing to ensure that the U.K. public are duped into believing that SEA LIFE shares our disgust at whale and dolphin exploitation.
Whilst vowing to boycott Chang Feng SEA LIFE center will have little impact from so far away, what we can do is put pressure on Merlin to do the right thing. Merlin owns a number of attractions that we will all have heard of and may even be planning to visit this Bank Holiday Weekend:
Alton Towers, Madame Tussauds, Legoland, The "Eye" brand (London Eye, etc), The "Dungeons" brand (London Dungeons, etc) and, of course, SEA LIFE aquariums.
Withdraw your support for these businesses while the exploitation continues. Indeed if, like me, you are concerned about the other animals held captive by SEA LIFE aquariums (not just the cetaceans), withdraw your support for these businesses altogether. In doing so, you can ensure that you are not complicit in their suffering; now or in the future.
You can join us in calling on Merlin to do the right thing by signing our petition and you can share the campaign with others who share your concern for animals.
Please help us to bring an end to the SEA LIES.
*Blackfish is a ground-breaking documentary which was released last year and considers the treatment of orcas at the hands of the (in)famous SeaWorld marine parks. Since its release, it has had a profound impact on public perceptions of orca captivity as well as hitting Sea World right where it hurts; in the profits.