Dog Tied To Dumpster With Sad Note Is So Happy To See His Family Again
"It was obvious that this was a snuggly, well-loved, well-cared-for dog. He wasn't just a throwaway."
The dog had been tied to a dumpster in a shopping mall parking lot in South Carolina. Someone had used pink marker to write a note on an old white tile, which they laid in front of the 6-year-old terrier mix: "Free Pup. My name is Scooter. Owner Went To Jail Today."
Thankfully, nothing bad happened to Scooter. A couple quickly found him there and freed him from the dumpster. They also took photos and posted them online, hoping to figure out who the dog belonged to.
The image of the abandoned dog circulated the internet and found its way to Paula Langford, the founder of South Eastern Homeless Animals (SEHA), a local foster-based rescue group. Langford knew she wanted to help, and she got in touch with the people who had him.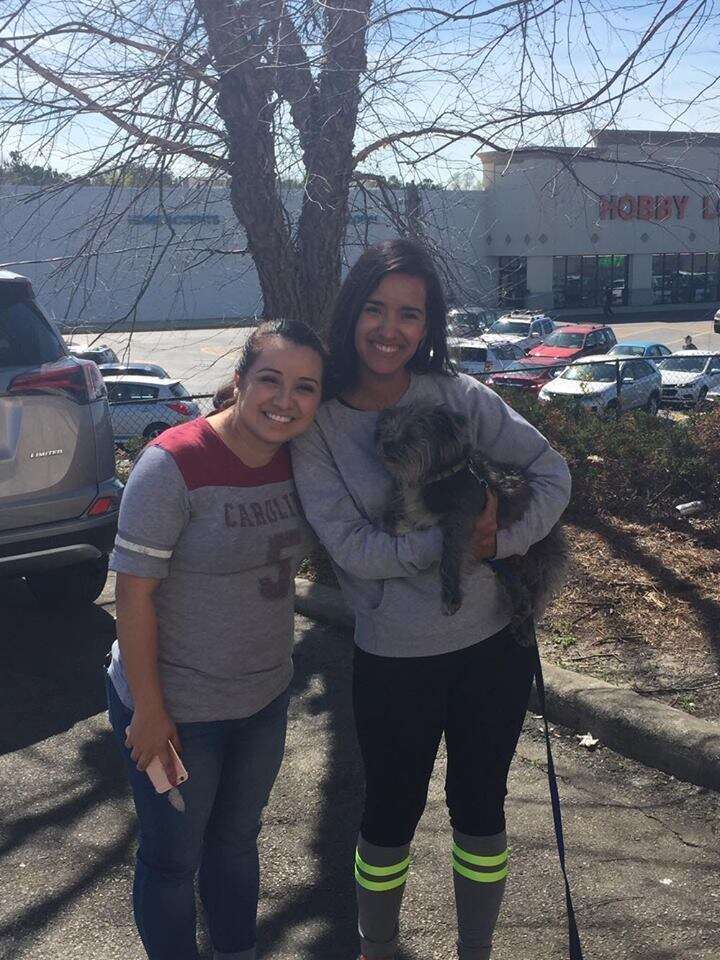 "I just reached out to them and said, 'I'll take the dog," Langford told The Dodo. "'I have a microchip scanner, I'll get him scanned and validate the story first. And then we'll get him wherever it is that he belongs."
Later that day, Langford picked Scooter up at a gas station.
"As soon as I saw him, I knew this was a loved pet," Langford said. "He was clean, he was flea-free. He was abandoned with an expensive carrying case for him, an expensive collar, a bag of grain-free dog food."
Scooter relaxed in Langford's arms - he must have known he was in good hands now.
"He was a bit nervous, but very sweet and very loving," Langford said. "He wanted to cuddle. It was kind of precious, because on the way home, he kind of laid his head on my chest and just did this big sigh, and kind of melted into me and went back to sleep."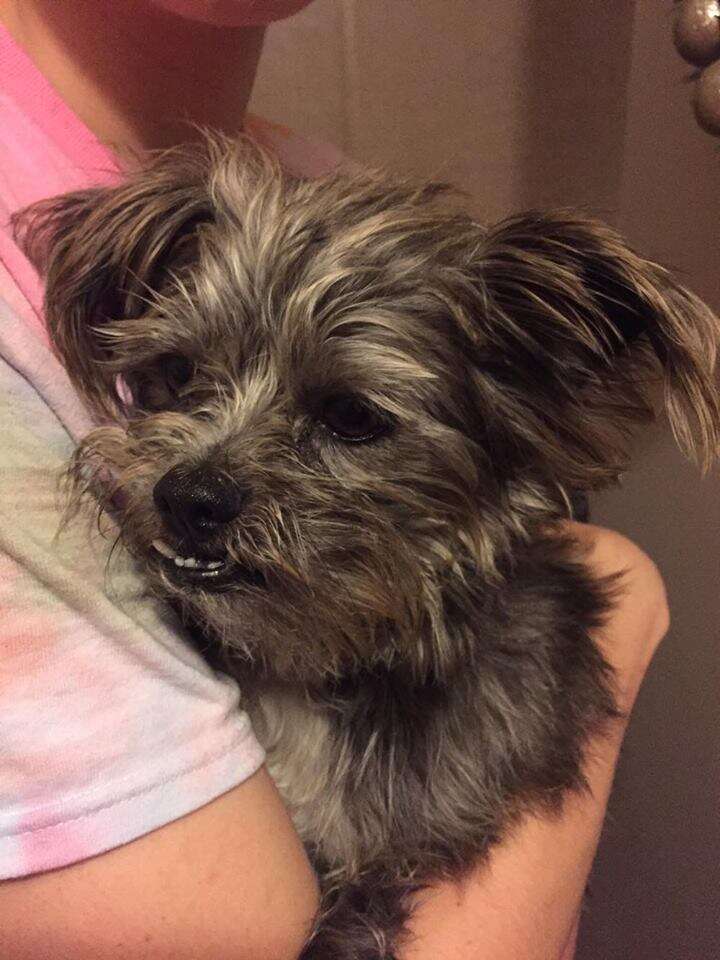 "It was obvious that this was a snuggly, well-loved, well-cared-for dog," she added. "He wasn't just a throwaway."
Instead of putting Scooter into a foster home, Langford took him back to her own place. Then she scanned his microchip.
"We discovered that he is originally from Colorado," Langford said. "We tried to contact the number on the microchip, but the number was disconnected. The microchip company informed me that he'd been found in 2015 in Colorado, and then again in 2016 in St. Petersburg, Florida, and that he'd been returned to the owner, but that's all he knew. And then, all of a sudden, he's in South Carolina!"
Langford did some more digging, and even managed to track down the police officer who'd arrested the owner. Through the officer, Langford learned that the owner had been arrested in the Walmart parking lot, not far from the dumpster where Scooter had been found.
"When he was arrested, his [the owner's] main concern was that his dog did not go to the shelter, so he handed his belongings, his money, his backpack, his carrying bag and his beloved dog to his friends and asked them to ensure that the dog was safe," Langford said.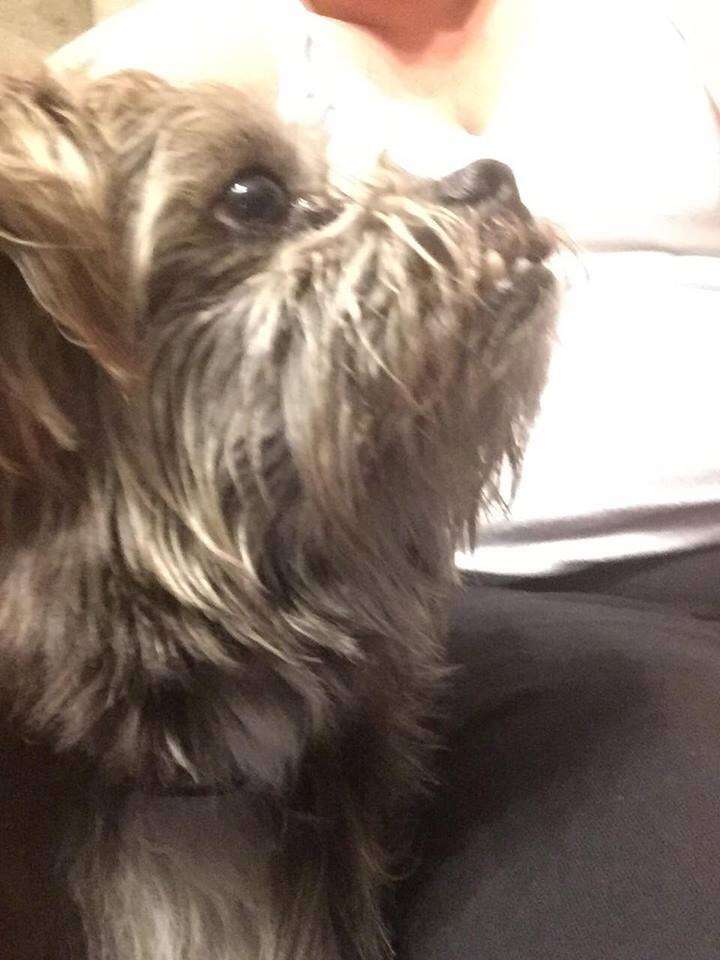 But instead of taking care of Scooter, the owner's friends abandoned him.
"They have issued an arrest warrant for those two individuals for the abandonment," Langford said.
Luckily for Scooter, Langford was on his side. She welcomed Scooter into her home, and also managed to get in touch with Scooter's owner's mother, who lives in Colorado. The mother agreed to take Scooter, and the two women made arrangements to meet in Nebraska, where Langford would hand Scooter over.
For Langford, the journey to Nebraska was 2,700 miles, and took over 24 hours of driving. She also had three kids at home, so it wasn't an easy feat to go on this trip.
But when Langford handed Scooter to his owner's mom, she knew it was all worth it.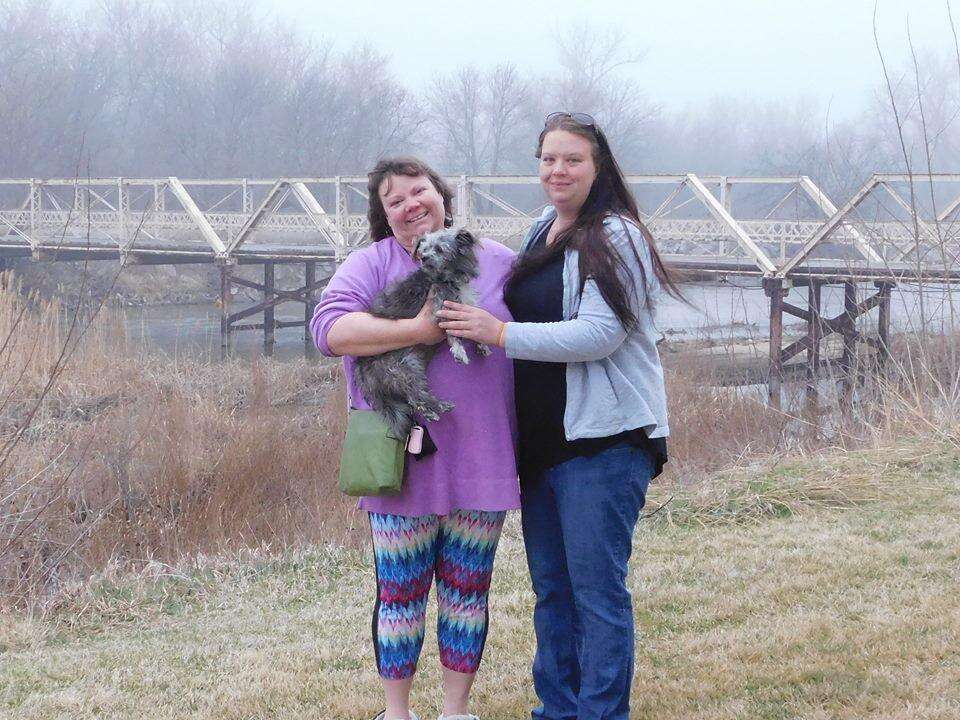 "It was a very touching and emotional reunion, and it was quite obvious that Scooter was very happy to see his family again," Langford said. "I am 100 percent confident in my decision to reunite this beloved pup with his family."
"When an animal is found on the streets, the ultimate hope is that the animal has a loving family looking for them," Langford said. "However in more cases than not, that is not the outcome. In Scooter's situation, he was a loved and treasured member of a wonderful family. And while it was emotional for me to say goodbye, I have no doubt that he is exactly where he belongs."
To help more dogs and cats find happy endings, you can make a donation to SEHA.