Terrified Little Dog Rescued From Worst Place Imaginable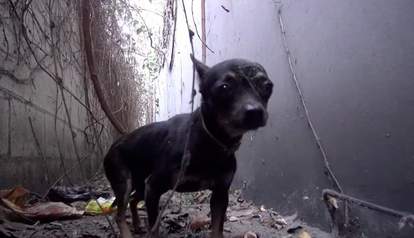 <p> <a href="https://www.youtube.com/watch?v=WtKQSC66kx0">YouTube/HopeForPaws</a><span></span> </p>
This tiny, homeless pup was living in a trench next to a biohazard disposal company, curling up each night in a dusty pile of trash.
The rescuers from Hope for Paws, a California dog rescue, often save dogs from some pretty dirty places, but this case was particularly heartbreaking. The first day they came for the little dog he ran right up to them ...
... and then ran away, terrified. They lost him when he ran out of the other side of the dirty, trash-filled trench.
So the next day, the two rescuers set themselves up at different ends of the trench, so the tiny dog wouldn't be able to get past them.
At first, he was wary of the humans and terrified of being picked up - so they tried to win him over with snacks and calming words.
And soon he began to visibly calm down - even crawling into one of the rescuer's laps. The transformation was already beginning.
Once he trusted them enough, the rescuers scooped him up to take him to a safe place - and they decided to give him a name.
That day, Angelo got a bath to wash off any remnants of his scary, lonely life in the dirty trench. By this point, he realized that the kind people who saved him were only there to help.
Now Angelo is safe at a foster home - where he's learning how to be a carefree dog. For weeks, maybe months, he must have been anxious all day, every day. Now he has nothing to worry about - and hopefully soon, he'll have a forever family.
If you're ready to give a dog like Angelo a home, visit your local shelter, or go to Adopt-a-Pet.com.
Watch Angelo's whole rescue below: