Even The Most Abused Dogs Can Learn To Love Again
Like humans, dogs can adapt to even the most adverse surroundings. Unfortunately, when dogs experience traumatizing abuse from humans, they can also learn to withdraw from all social interaction.
But they can be taught how to love again. Recently, National Geographic got a glimpse inside a program trying to do just that.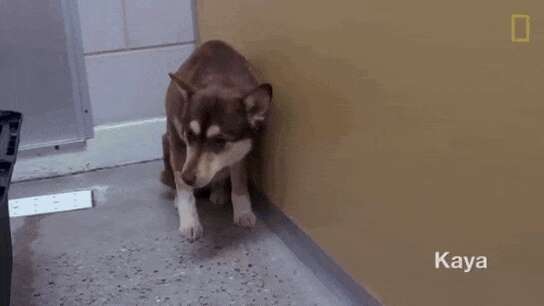 With the abuse they've endured, dogs like Kaya and Robin have learned not to trust humans.
Inside South Korea's dog meat industry, dogs are kept in inhumane conditions without enough food or medical treatment. "They simply exist on the edge of survival every day to then just be slaughtered," says Kelly O'Meara of HSI in another National Geographic video.
When Kaya and Robin first came to the U.S., they struggled to acclimate to life in the shelter where HSI initially placed them, so the ASPCABehavioral Rehabilitation Center (BRC), in conjunction with St. Hubert's Animal Animal Welfare Center in Madison, New Jersey, welcomed the two rescued dogs instead.
"The goal of [BRC] is to help under-socialized, fearful dogs that can't be adopted because of the severity of their behavioral problems," says Kristen Collins, senior director of anti-cruelty behavior rehabilitation at BRC, in the video.
"They were extreme cases."
In the short time since its opening in March 2013, BRC has successfully healed over 160 timid dogs, but Kaya and Robin were severely traumatized by their experience on the dog meat farm.
"You couldn't get near them. You couldn't touch them. They were trembling. Even if you simply went into the kennel, they'd lose control of their bladder and bowels," says Collins. "They were terrified."
"The thing that enabled us to move forward with Robin was play," she says.
"When we introduced her to toys and took her to an outdoor area, she suddenly started to blossom," Collins says. Now, Robin's living in a new home, and Kaya's on her way to making a slow, but steady recovery as well.
"Currently, Kaya is learning to feel more comfortable around people, enjoy petting and walking on a leash," Emily Schneider, an ASPCA representative, told The Dodo in an email. "It's hard to say when she will be ready to graduate from the program, but she continues to show progress and we're optimistic that she will be adopted into a safe and loving home in the near future."
The ASPCA will soon expand its behavioral rehabilitation efforts. "Due to the success of our pilot program in New Jersey, we are planning to build a permanent center near Weaverville, North Carolina, to help dogs with behavioral challenges become suitable for adoption," Schneider said. The center is expected to open in 2017.
Additionally, BRC keeps records of the techniques it has used. By keeping track of its successes, staff members hope to share their findings and provide guidance for other rehabilitation centers.
There are many abused and neglected dogs in the U.S. who desperately want to learn how to forget their fears. Thanks to the help of the ASPCA and other animal welfare organizations, perhaps humans can learn a little more about how to treat them.
Watch Kaya and Robin's blooming transformation below.