Scared Otter Who Lost Her Family Gets A Stuffed Robin To Help Her Feel Safe
She was found trying to cross a busy road all by herself.
After Misty was separated from her family, she wandered around looking for help, and ended up trying to cross a busy road all by herself. 
Luckily, people driving by spotted the lost, confused baby otter, and immediately contacted the Scottish SPCA to see if they could help. 
Scottish SPCA
Misty was taken to the Scottish SPCA's National Wildlife Rescue Center, where staff quickly set about caring for the little otter. Poor Misty was only 10 weeks old, much too young to survive on her own, and was at first incredibly nervous and unsure about her new temporary home.
"We named the cub Misty as she is very small and mist is made up of tiny droplets of water," Colin Seddon, manager of the National Wildlife Rescue Center, said in a press release. "She was difficult to feed when she arrived as she wouldn't take a bottle, but we were able to get her onto fish and she is now going from strength to strength!"
An otter so young really needs the care and guidance of her family, and so to help her feel safe and bring her a little comfort, staff at the rescue center got Misty a special friend …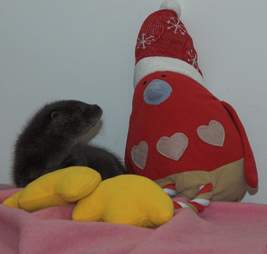 Scottish SPCA
… whom Misty absolutely loved and bonded with immediately.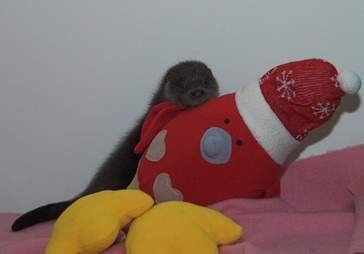 Scottish SPCA
The soft, friendly robin toy is something comfy that Misty can cuddle up to in place of her parents, and will help to make her feel loved until she can be released back into the wild and find an otter family once again.
Scottish SPCA
"She will be reared with another otter cub of a similar age, called Fin, who arrived into our care on Boxing Day. Misty will be released in around a year's time when she is mature enough to fend for herself in the wild."
Misty may have had a rough start to life, but thanks to her rescuers, she has the best toy to snuggle up to until she can head back into the wild where she belongs.
Scottish SPCA