It was Rapa's frightened cries that first alerted the local community to his presence. Aged just 5 to 6 months, he had fallen into a well when his herd had crowded to drink water, and was unable to scramble out.
Luckily, wildlife education in the region meant that the community here were sympathetic to the plight of orphaned elephants. Pulled from the well by local community conservation scouts, our rescue team mobilized in Nairobi and quickly flew to the scene.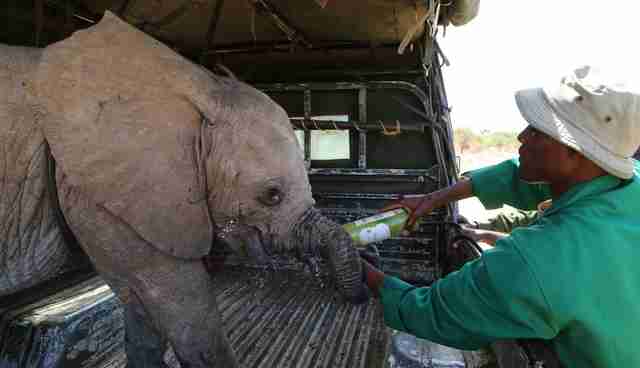 An hour's flight later, our teams met this bruised but spirited calf on the dusty airstrip where he had been shaded from the glare of the sun. Wrapped in a tiny bundle, with infected eyes from the putrid water of the well, he received a carefully prepared IV drip as our keepers stroked his baby soft ears and trunk throughout the flight to reassure him he was in a place of safety.
Arriving at Wilson airport, little Rapa was greeted with regular warmth from the staff; even the police, who man the airport's entrance gate, curiously seek the details of each and every case as we exit the airport perimeter for the short journey to the Nairobi National Park, and our orphanage!
Named "Rapa" after a hill in the area from where he was rescued, we've been treating his infected eyes and, fed by our rotating Keepers, he's fast getting through a tin of formula milk a day! In addition to this nutritious milk, we are providing 24-hour keeper care and frequent examinations.
Rapa was lucky.
Another baby, Murit, who we also rescued from a well earlier this year had his frightened cries go unanswered by the local community surrounding him. Eventually someone felt pity for him and called for help.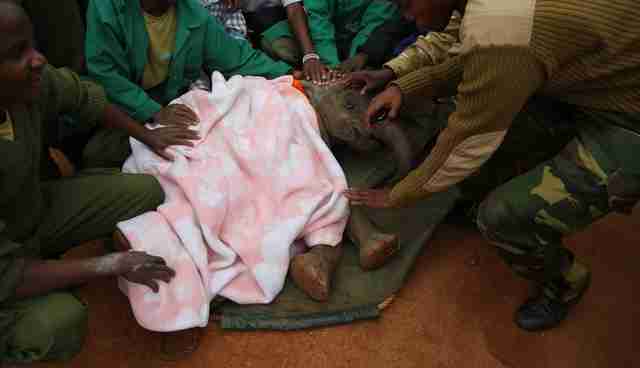 When talking about elephant conservation, community education might not have the "wow" factor in comparison to sharing images of tiny baby elephants. But as Rapa's rescue shows, when communities understand the need to protect their wildlife, they act quickly to protect and save wild lives in need. You can find out more and support our community outreach work here.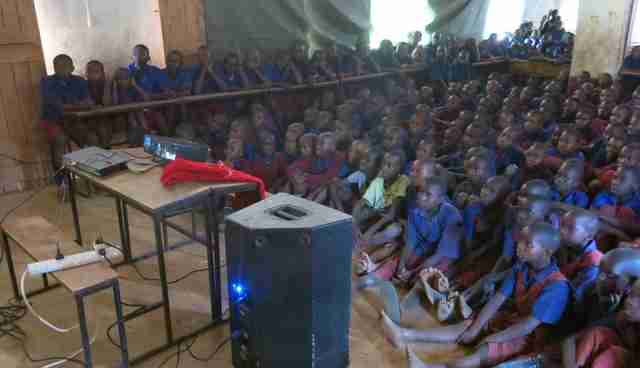 In the meantime, Rapa will remain in our care until he is old enough to re-join the wild. Most orphans tend to make the transition when they are 10-years old meaning that, at just 5 to 6 months, Rapa will remain a part of our orphan herd for many years to come.
Find out more about Rapa and follow his road to recovery at:https://www.sheldrickwildlifetrust.org/asp/orphan_profile.asp?N=337