Scampering Puppies Find Worthy Opponent: A Teddy Bear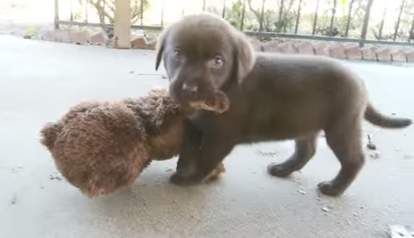 These little Lab puppies have discovered a fluffy companion who's just their size - a snuggly (and chewable!) teddy bear. The only catch? The pups would much rather wrestle with the fuzzy new beast than cuddle it.
One little scamp shows that she's gonna take the bear all for herself. After all, you've got to be assertive when it comes to stuffed animals.
Pretty soon, though, the whole gang wants to chomp on this bear, and nobody has the slightest intention of waiting their turn. The bear doesn't stand a chance against this trio.
The scrappy puppies may not be totally content with sharing their prized bear, but playing tug-of-war is so fun, it seems like a pretty good compromise. After all, you've gotta start practicing early if you want to become a big, brave dog - and wrestling bears is a pretty courageous activity.
Teething pups love to nibble on (almost) everything, so if your little one is entering his teething stage, be sure to equip him with toys that not only soothe his gums, but are safe for him to chew.
Watch the entirety of the teddy bear takedown below: