Saving My Dog's Life Will Be My Proudest Achievement
Along with millions of other companion animals in the US, Tiger and his litter mates were abandoned at a high kill shelter in southern California's Kern County. Luckily, a rescue group saved Tiger's litter mates but, because of a deformed leg, Tiger was left behind. At that point, his chances were almost nil. Hours before his scheduled murder, a rescue in Ventura took pity on him and went into action to save his life. That's where I came in - his foster mom. The rescue brought him to me in Thousand Oaks where he would spend the next 7 months!
Tiger had challenges starting at birth. His front leg was deformed which made it painful for him to walk. He was left in a noisy, germ infected "shelter" at the delicate age of 8-weeks where he picked up all kinds of bad bugs. He was sick, scared and in pain when he first entered my home, but was quickly embraced by both human and canine members of the family as he was nursed back to health. Tiger's personality didn't quite shine through until he became more comfortable and he felt better, but once that happened, it was obvious to everyone he is a charismatic, incredibly grateful and loving boy with a bit of an attitude!
Photo: Jill V. Harper
In order to increase Tiger's chances of finding a home, the rescue and his vet decided that amputation of the front leg at the shoulder would be the best option for Tiger to live pain free. At four month of age Tiger's leg was removed. That was one of the most difficult days I've had as a foster mom. I did not want his leg removed but had no say in the process. However, his recovery was remarkable and he could get around well, so I realized it was a good decision.
I fostered him through the rehabilitation. Every morning I brought Tiger along with all his foster brothers and sisters on our morning walk. I would zip Tiger's little body up in my sweatshirt and allow his little face to stick out at my chests; he loved it and all the neighbors loved his smiling face as it bounced up and down as we trotted down the street. Eventually, he was able to walk on his own and soon he would join us all on our hikes and walks. He loved his pack mates and his favorite thing in the world was to play with other dogs.
Eventually, after about five months, he was adopted by a woman who promised to take care of him for the rest of his life. However that did not end up being the case. Tiger's adoptive mommy and I kept in touch. I got to be Tiger's weekly sitter while his mom ran errands. One day, however, Tiger's mom didn't come pick him up and I soon realized that she had abandoned him with me. She didn't respond to texts but did send an email informing me that she could no longer handle him because he "whined all the time."
You see, Tiger is a talkative boy; he's charismatic, loving, goofy and often times I tell people he reminds me of Scooby Doo! I was thrilled to have him back, but also stressed as I had just moved from a 3-bedroom home with a large 10,000 square foot yard to a 700 square foot condo with no yard and I already had three other dogs who I had rescued.
Photo: Jill V. Harper
But I was not going to let Tiger's life hang in the balance, as he was finally in the only place I could guarantee that he was safe and loved. Within a few days of him being with us however, it became apparent that Tiger's "whining" that his "mom" could not handle was his way of telling us he was suffering from severe pain. He would cry himself to sleep.
A vet appointment was made immediately and 1-year old Tiger was diagnosed with severe bi-lateral hip dysplasia; the vet informed me that Tiger was in excruciating pain every minute and something needed to be done right away, that he could not live in this condition.
I went back to the surgeon who performed his amputation and who was "approved by the rescue" (the rescue that was no longer in operation and had no money to help). The diagnosis was confirmed and again it was suggested that surgery was the only solution. It was suggested by this particular doctor that he could do a bi-lateral femoral head ostectomy (FHO) and he promised that within two weeks Tiger would be up and playing. "Wow, what an easy fix," I thought! (I found out months later that choice of surgery could not have been a more detrimental to a tripod.)
I knew immediately upon bringing Tiger home that there was something horribly wrong. Tiger was suffering even more! For almost eight weeks he was completely incapable of walking - he urinated on his bedding, defecated too. He cried and howled for months. No sleep was to be had by anyone in our household. I was in daily contact with the surgeon but he had no answers. We went back and forth to the surgeon's office that was 40 miles away in Westlake Village. Eventually he offered to keep him after I brought Tiger to his hospital at 2:30 in the morning. Ten days went by and with my constant contact with the vet, I realized that Tiger was just languishing in the back of his facility and they were not doing anything to find the solution. I finally picked him up.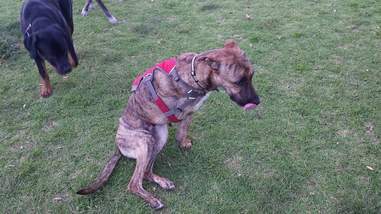 Photo: Jill V. Harper
The fight to save Tiger's life was on and I knew I was all he had. Several emergency room visits, multiple appointments with many vets and there still wasn't an answer. After almost four months and $10,000 later, I found Dr. Stephanie Scheff, DVM and holistic vet of Ohana Pet Hospital. She worked on Tiger for weeks doing acupuncture, laser therapy, energy work, etc. and he was finally able to walk. But his story was not over yet. He still suffered from some undiagnosed pain and was unstable on his feet due to the removal of his femoral heads which left his body like a rickety chair After eight months of: research, vet visits, phone calls to vets all over the country (and to Italy), dog whisperers, specialists, anyone who would listen and anyone who may possibly have some answers, it was not until one of the many late night emergency visits we had to make on his behalf that a suggestion that made sense was made. Little did I know it would be the beginning of the end of this nightmare.
A vet who saw Tiger that early morning and who had read all of the other notes from his previous visits, suggested a surgical consult with Veterinary Medical and Surgical Group (VMSG). I did as suggested, as always, and we met with them the next day. After many diagnostics and other tests, it was determined that Tiger is a candidate for a unique procedure developed for dogs who have not done well with FHO: a total hip replacement on the left side, the side he is lame. The surgeon states there is a 80 to 90 percent chance of total recovery for Tiger. I'm excited, nervous and so grateful for Dr. Scheff and the surgeons at VMSG. Tiger's surgery was put on hold due to a skin infection that didn't show up until he was being prepped, but he will soon have this life saving surgery.
There is along road ahead, but I know that Tiger's story will have a happy ending. He is loved, and he and his mommy are fighters. He has a team of professionals and a swarm of supporters. And you know what, he sure does love living! I can't wait until the day Tiger is able to play with all his other play mates at the park. His recovery will be my greatest achievement!
Please help Tiger win this fight by donating toward his surgery and rehab.
And like his page on Facebook at Tiger The Tripawd.