Save Sammy: Family Pet in Custody after Police Kill his Human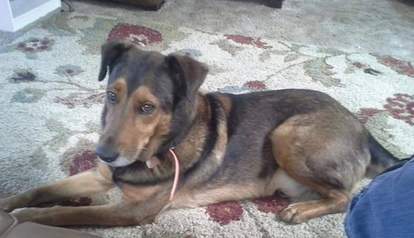 Thousands have shown their support and dedication to a pup who just wants to go home.
Earlier this year, tragedy struck as a routine procedure went horribly wrong and ended in the death of a woman as well as the confinement and possible execution of a beloved family dog. Due to a prior domestic disturbance arrest, Burlington, Iowa, resident Autumn Mae Steele was required to have a police escort while retrieving belongings from her home. The police department sent officer Jesse Hill to supervise. Autumn and her husband began to argue in front of the house, and Hill tried to break them up. According to reports, the family's German Shepherd, Sammy, approached the officer and jumped near his back. Though some witnesses state the dog was being "playful," Hill was startled and opened fire on the dog in front of the Steele family, including their 4-year-old son. While discharging his weapon, witnesses claim Hill "fell down in the snow" and fatally shot Autumn in the chest.
Following the shooting, police took into custody Sammy, who was grazed by another shot, and have refused to return the 7-year-old dog to the Steele family. A hearing is scheduled before the Burlington Animal Hearing Board this Wednesday, February 25th, to decide Sammy's fate. The hearing will determine whether Sammy meets the criteria as a "dangerous dog," the consequences of which could result in euthanasia. Tiffany Croke, Autumn's cousin, started a petition, which now has over 17,000 signatures, to raise awareness and appeal the Board to release Sammy back to his family. She told me via Facebook, "From eye witnesses Sammy did nothing to deserve to be shot but startle the Officer....I just think it's unjust. I know Sammy is not vicious and I know that this was not Autumn's fault."
Unfortunately, this may be an uphill battle. The police say Hill was treated for a dog bite, and the Iowa Division of Criminal Investigation stated its preliminary findings support "a tragic accident." But Puppycide Database, an organization working to document cases of police brutality against animals, claims authorities "have refused to share the copious physical evidence available surrounding the shooting. Jesse Hill was wearing a body camera, and his police cruiser's dash camera was also operational. Not only have police refused to hand over those video tapes to the media, they have yet to even mention the footage in public." According to their latest blog posts, the county prosecutor has blocked the case from reaching the Attorney General. Both Croke and Autumn's mother, Gina Waters-Colbert, confirmed that authorities are keeping the family in the dark. What this means for Sammy is unclear, but if the camera footage confirms that Sammy was not acting in a threatening manner, this could develop from an accident to a case of poor training, and Officer Hill would have to be held accountable for his irresponsible use of deadly force.
Sammy is lucky to have survived his encounter with law enforcement. While no comprehensive statistics are yet available, Puppycide Database reports that every year "somewhere between several hundred to several thousand pets are killed by police." This is another example of an increasing trend empowering police officers to slaughter dogs for reasons beyond self defense. A recently proposed Mississippi law would allow police to kill pit bulls if they are not restrained within their home or wearing vaccination tags.
Don't let Sammy become another animal unnecessarily taken from those that love him, especially when they have suffered so much already.
Here's what you can do to help:
Sign the petition to help bring Sammy home.
Call and email Burlington Animal Hearing Board members (contact info available here).
Email the city council at citycouncil@burlingtoniowa.org.