One Country Figured Out How To Save Its Rhinos
Rhinos are on the rise in Nepal! The country's crackdown on poaching has succeeded for another whole year. This is the third time in five years this has been achieved in the South Asian nation, home to the greater one-horned rhino.
645 rhinos can now call Nepal's lowlands home, up from 534 animals in 2011 - an increase of 21 percent. A huge achievement, when you consider the dire decrease worldwide. Just 29,000 rhinos exist today across Asian and African wilderness, down from the 500,000 at the beginning of the 20th century. And some subspecies are very much on the brink of dying out, like the northern white, which has only three individuals left.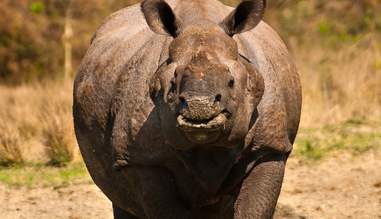 Shutterstock
Some rhino conservationists have gone to desperate lengths to keep these majestic animals safe from the rampant poaching that threaten their very existence. Some rhinos in the most dangerous zones have been flown to escape poachers who kill them for their horns, which fetch huge sums on the black market.
Nepal has not been in the news for such happy reasons lately. The 7.8 magnitude earthquake on April 25 ravaged the nation's people and the animals they rely on.
Shutterstock
"The encouraging results of the rhino count are a boost to Nepal's conservation efforts, even while the country tries to come to terms with the devastating earthquake that shook the nation," director general of Nepal's Department of National Parks and Wildlife Conservation Tika Ram Adhikari said in a statement.
"Stories such as this also provide a much-needed ray of hope for people to believe that although the ground may have shaken beneath their feet, they still stand tall, undeterred and driven to build back a country that inspires the world," Anil Manandhar, Country Representative of WWF Nepal, said in a release.