America's Ginormous Snot Otters Face Looming Threats
<p><a class="checked-link" href="https://www.flickr.com/photos/usfwsnortheast/5161452281/sizes/m/" style="text-decoration: none;">USFWS Northeast Region/Flickr/CC BY 2.0</a></p>
At two feet long, with heads the same shape as moldy pancakes, hellbenders aren't perhaps the most photogenic amphibians on the planet. But that's of little importance to the dedicated teams of ecologists, veterinarians and amphibian enthusiasts across the northeastern U.S., who are working diligently to preserve this rare salamander species from extinction.
For the record, I think these dudes look like little aquatic dinosaurs that forgot to go extinct - awesome, in other words. (Brian Gratwicke/Flickr/CC BY 2.0)
Wildlife scientists from Cornell University recently joined other New York biologists as part of a program to release captive-bred salamanders back into the wild. The early results are grim: Of 25 salamanders released this summer, 19 have perished, felled by the same fungal disease that devastated a population of Maine frogs earlier this year. The researchers will take precautions, akin to vaccinations, to protect the other 130 salamanders still in captivity before releasing them after the winter.
Hellbenders - who also go by "snot otter," "mud dog" and "grampus" - have eggs the size of golf balls. (Pete&NoeWoods;/Flickr/CC BY 2.0)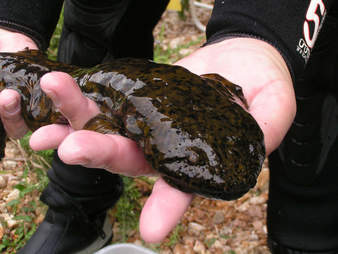 Beyond dealing with fungus, hellbenders are losing critical habitat due to dams and other human activities; fracking, in addition, may also raise problems for this sensitive species. Because hellbenders breathe mostly through their skin, they need swift, clean water to get enough oxygen. (Too much silt, on the other hand, can be harmful.)
A conservationist releases a young hellbender in 2013. (USFWS/Flickr/CC BY 2.0)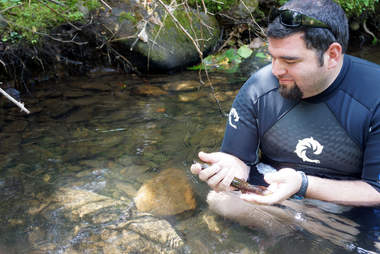 Once they find a suitable spot, they're likely to stick with it - so should you find yourself in hellbender territory, leave big rocks well enough alone. "You'll see a hole. You'll see a hellbender head sticking out, and that's that guy's home," biologist Jeff Humphries of North Carolina Wildlife Resources Commission told The Revivalist. "He might have that rock as his little home for years and years."