Guy Turns His Home Into Dream House For 22 Rescued Cats
"We humans cannot solve so many big problems — but we can solve little ones."
Peter Cohen lives in a beautiful home in Santa Barbara, California - and he shares it with his 22 rescued cats.
Their names are MiniBean, Smokey, Vanilla, Mango, The Professor, Mikan, Climber, Blackbird, Jupiter Jones, Smudge, Nugget, Nutter, Butter, Crumple, Rumple, Cookie Monster, Secret, CoffeeBean, Donut, Cheesecake, Chocolate and Poppyseed.
Not only that, Cohen, who is a contractor by trade, has decided to totally transform his house into an indoor cat's dream. He's affixed walkways (which he calls catwalks) high up along his walls, sunning stations up near the skylights, portholes for traveling between rooms and a wealth of little private nooks and crannies for the felines to curl up in.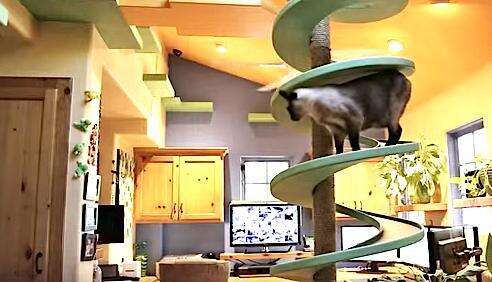 Cohen bought the house in 1988, and there were two outdoor cats living there, The Gray One and The Black One. When they were hit by a car, Cohen decided to keep his cats inside from that moment on. In 1995, Cohen happened to see a book that showed an idea for how to keep indoor cats entertained: catwalks.
"Since I had a construction company and cats I decided I could do that too," Cohen told The Dodo. "From there it just became a hobby. More catwalks led to more cats."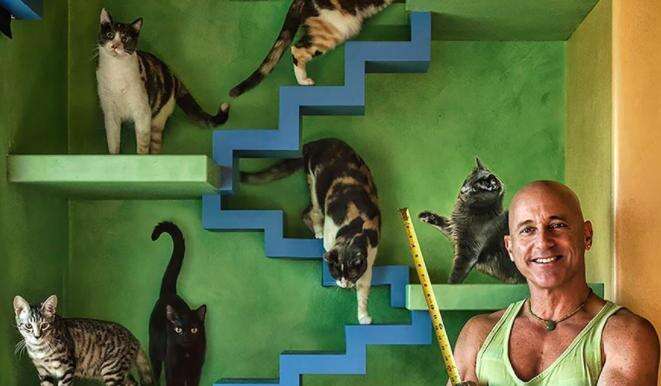 More cats meant more rescues. "All our cats are rescues from shelters. Many are hard-to-place cats, [like] black ones, shy ones, etc.," Cohen said. "Living with so many cats is work but we get so much more from them than we give. The cats bring the house alive."
Then, in 2012, one of his kittens, Peanut, got sick with feline infectious peritonitis (FIP), a virus that kills about one in 200 kittens, Cohen said.
"Until this year there was no real treatment and it was always fatal," he said. Peanut, sadly, passed away.
Then, in April, Miss Bean was diagnosed with FIP. Through his notoriety as the man who built his cats a dream house, Cohen managed to get in touch with researchers at the University of California, Davis, where Miss Bean ended up trying a drug to help her. "It was at that time I decided to use the fame of my cats and cat house to raise money for FIP research," Cohen said.
"Sadly, Miss Bean never responded to the drug and had to be euthanized 4 weeks later," Cohen said. "However, through more internet magic, I came to adopt Smokey, another FIP kitten that had just been accepted into the trial."
Unlike Miss Bean, Smokey responded to the new drug and completed 12 weeks of injections. Amazingly enough, Smokey has been off his medication for over 6 weeks and is still doing well. "He is now one of 5 kittens out of 36 in the trial that seem to have made it," Cohen said. "The researchers just need more money to speed the development of a commercially available treatment."
And that's what Cohen is trying to do now, helping to raise money so that more cats can be saved.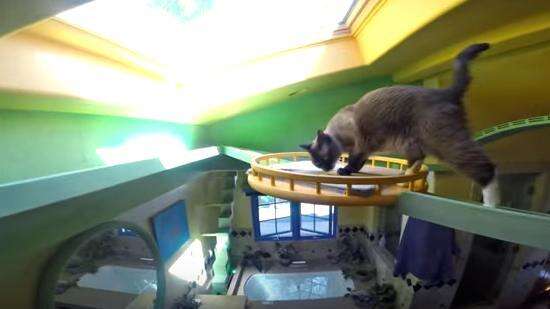 "We humans cannot solve so many big problems," Cohen said, "but we can solve little ones. Each cat we adopt from a shelter is one more sentient being that now has a home and love and care. It is that simple."
To learn more about FIP or to donate toward finding a cure, click here.