When the mercury drops and the chilly winter winds come blowin', humans aren't the only ones who need to bundle up. And while we already know how cute and cozy cows, pigs and goats look in coats, it turns out elephants sometimes need an extra layer to keep from catching a shiver, too.
Southeast Asia might not jump to mind as a particular frigid part of the world, but for at least one rescued pachyderm at the Elephant Nature Park sanctuary in Thailand, the weather recently has been a tad unpleasant.
"This year is not just only cold, but the rain comes to the wrong season and with it a cold wind; some of our old elephant stand shaking," writes sanctuary owner Lek Chailert. "Bua Loi is one of the elephants that shows very obvious shake when she gets cold."
But Bua Loi is cold no more, thanks to a sanctuary guest who was kind enough to order her a coat.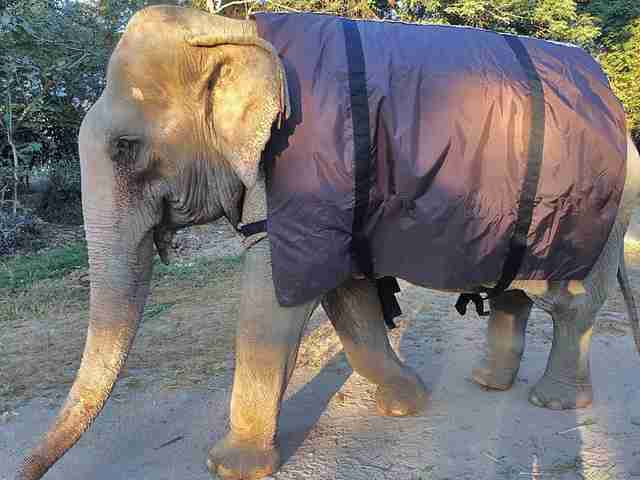 Where does one order winter-weather apparel for elephants? Well, there's at least one manufacturer in existence - New York-based clothing manufacturer, the Goat Coat Shop.
"I've made the coats for elephants at two different sanctuaries in Thailand. They're insulated coats. They put them on at night when it gets really cold there," elephant-coat-maker Diana Nizer tells The Dodo. "I'm told they really like them."
Nizer says that the coats she makes for elephants, weighing in at roughly 10 pounds each, are probably the largest coats in the world. She agreed with The Dodo's speculation that the only mammals larger than elephants, i.e. whales, probably had no use for coats anyway.
"I don't know who would wear a jacket that would be bigger than an elephant," Nizer adds. "I don't want to know."
Nizer says that Bua Loi's coat has been such a big success, Elephant Nature Park has put in an order for several more. Best of all, at just $250 a piece, they're really quite affordable for the difference they can make in the life of a chilly elephant.
To learn about how to help or to order an elephant a coat, visit the Elephant Nature Park's website here.