This week, the world said farewell to Sam Simon, a man who dedicated his life and fortune to improving the lives of animals throughout the world. But few are feeling the loss quite as strongly as the one to whom he meant the most - his cherished dog, Columbo.
"It's been hard for Columbo to not be seeing Sam," Tyson Kilmer, a close friend who has adopted the dog, tells The Dodo. "The entire process of Sam's health over the last few years has been very hard on him. His animals were there for the good days and the bad days, when he was in pain. So it definitely takes its toll."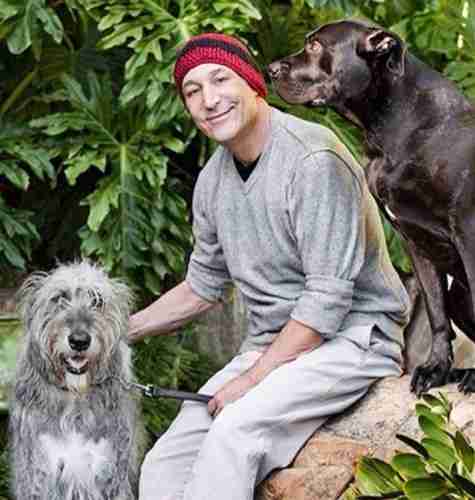 Columbo and Simon's other dog, Gertrude, who recently passed away, were more than just pets - they were family. When working or conducting meetings for his animal foundation, his two beloved dogs were always by his side, just as Simon preferred.
"He dedicated his entire space to them. It was a dog paradise," says Kilmer. "Sam just loved them to bits. He was very connected with his animals."
Through his long battle with cancer, the bond between Simon and his surviving dog only deepened, especially in his final days.

"Columbo absolutely brought him comfort near the end," says Kilmer. "As Sam's physical condition worsened, it became harder to get Columbo up on his bed, so just in the last couple of weeks, we had put some stairs beside the bed so he could continue to sleep with him. Sam would just cuddle up with this dog always and at all times."

Kilmer says that Columbo has been suffering with back pain, likely made worse by the stress of losing his human companion, but that he seems to be settling in to his new home well.

"The routine he has at my house is very much the same as he had at Sam's house," says Kilmer. "He's got a completely intact lifestyle that he is coming into."