Love Transformed This Rescue Dog From 'Horrible' To Happy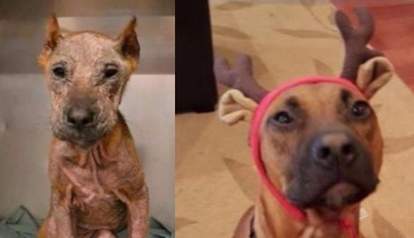 When animal control staff showed up at the courtyard of a Georgia apartment building, the sickly puppy, weighing just 15 pounds, seemed already at death's door.
Then they took her there, literally - to death row at Clayton County Animal Control.
"When she was brought into the shelter, she was unresponsive," Dany Planck of Second Chance Rescue tells The Dodo.
For what it was worth at the shelter, this skin-and-bone dog was still alive.
Turns out, it was worth the world.
Although based in New York City, Second Chance Rescue helps with dogs in need of urgent medical care in several states.
The group pulled Sallie, as she was later named, off death row and immediately took her to the group's own vet in Georgia.
She was suffering from a "horrible" case of mange, Planck recalls, along with a secondary skin infection.
"Somebody tried to clip her ears and did not do a very good job."
In all, she was under veterinary care for two months. After that, she went directly into a foster home in New Jersey. That's where, beneath the skin and bones, Sallie revealed her remarkable heart.
"She's sweet as can be," Planck says of the 8-month-old pit bull. "She's in foster right now with kids. And she loves the kids."
Still a little wary of other dogs, but, she adds, "she's coming around."
"The foster says she's amazing. She cannot believe someone would not have kept her."
Think you could give Sallie a second chance at a home? Maybe this time a real home? She's available for adoption in the northeastern states, including New York, Pennyslvania, New Jersey and Maryland.
"We have to feel really comfortable with an applicant if the dog leaves the northeast," Planck says.