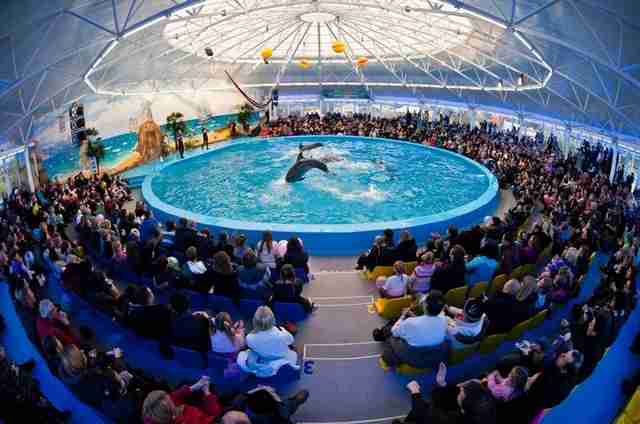 Over the past two years, there has been a growing wave of concern globally regarding cruelty shown to marine mammals in captivity.
Whilst worldwide, growing opposition to marine mammals in captivity increasingly threatens this unacceptable commercial practice (and thankfully so!), in Russia it is just the opposite: this tragic "entertainment industry" is growing rapidly.
What Is Happening To Dolphins and Orcas Right Now in Russia There are now 43 stationary dolphinariums in Russia, holding approximately 160 bottlenose dolphins and 60 beluga whales. In the near future, three more new facilities are scheduled to open: two dolphinariums in Novosibirsk and Nizhny Novgorod, and the new Moscow Oceanarium at VDNKh.
Three orcas – Narnia, Nord and Juliet - were actually captured just for this new Moscow Oceanarium, which also announced that it had ordered dolphins from Japan. Even more oceanariums like the one in Moscow are being planned for Saint-Petersburg and Nizhny Novgorod, along with 3 more dolphinariums in Rostov, Grozny and Ulyanovsk.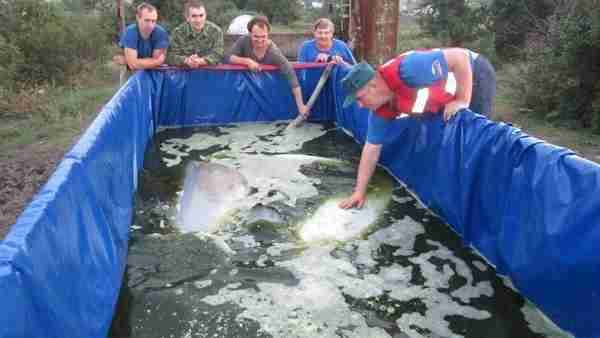 December 1, 2014, Tyumen.
The stairs at the Arena of the Moscow Traveling Dolphinarium collapsed. Two people were injured.
Source: http://infotob.ru/news/news-7294.html
How One Person Made a Difference These are only a few examples of the types of major accidents that can occur, and they represent the few incidents that have become publicly known. In contrast, very little is known about what happens daily to the animals in these mobile shows.
Yet, sometimes, people witness terrible things.
Just recently, at the end of April 2015, the Russian traveling dolphinarium came to Perm. The installation of the arena starts. From the Ferris wheel, Elena Borovskaya by chance sees beluga whales in the tiny tank. The next day, the belugas still were in the same tank. Whales in tiny tanks! These poor whales spent three whole days in those tanks. On the third day, when Elena went closer to the tank with the whales, she witnessed a terrible odour. In the pictures below that were taken over the three day interval, one can clearly see the difference of the water color where the belugas had been kept.
This dolphinarium came to Perm after the tour in Veliky Novgorod. Transportation from Veliky Novgorod to Perm takes more than a day. When one takes into account the 3 days for dismantling the inflatable arena in Veliky Novgorod, it turns out that these TWO POOR BELUGA WHALES SPENT AT LEAST EIGHT LONG DAYS IN THAT TINY TANK FILLED WITH FETID WATER. Only then they were moved to the so-called main pool.
KEEP IN MIND: WHILE FREE BELUGA WHALES LIVE IN THE VAST OCEAN AND SWIM MANY KILOMETERS EVERY SINGLE DAY, THESE TWO WHALES' SO-CALLED "MAIN POOL" IS ONLY 46 FEET IN DIAMETER AND ONLY 6-7 FEET DEEP! AND THIS IS THE BEST OF WHAT THESE HORRIBLY MISTREATED WHALES EXPERIENCE IN THEIR WHOLE LIFE. Yet the Moscow Traveling Dolphinarium claims this tiny pool is suitable for living?! How can it be?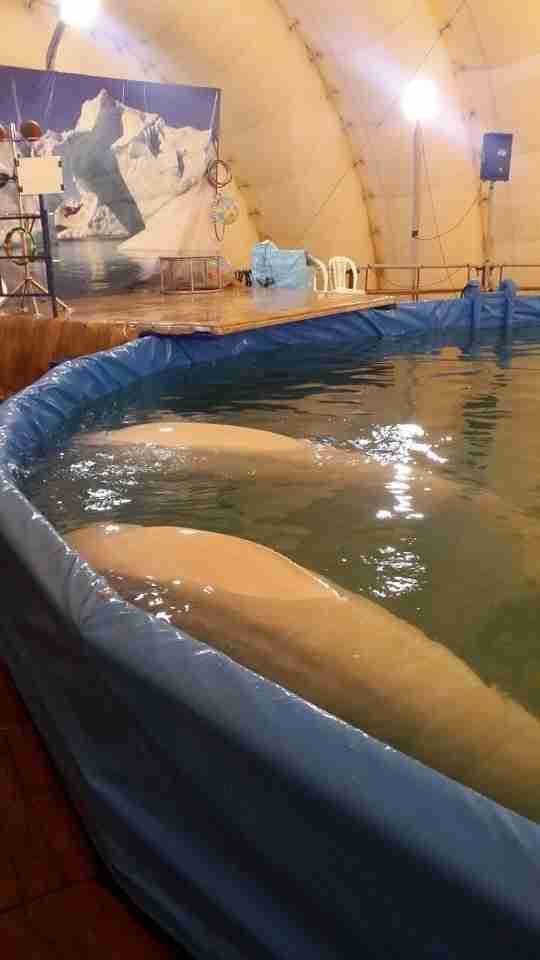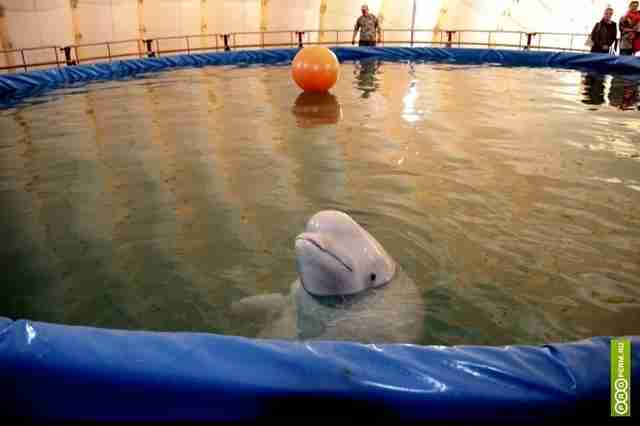 Photo: courtesy of properm.ru This seal had been kept in this tiny cage for at least 8 days!!!
Photo: courtesy of properm.ru The dolphinarium was closed for inspection for on April 30th because of increased public attention. Yet, despite all the criticism, the dolphinarium commenced on May 1st. When they did their inspection, local authorities concluded that no mistreatment of animals had been identified. Isn't it amazing what kinds of terrible animal treatment is considered "acceptable" in Russia??!!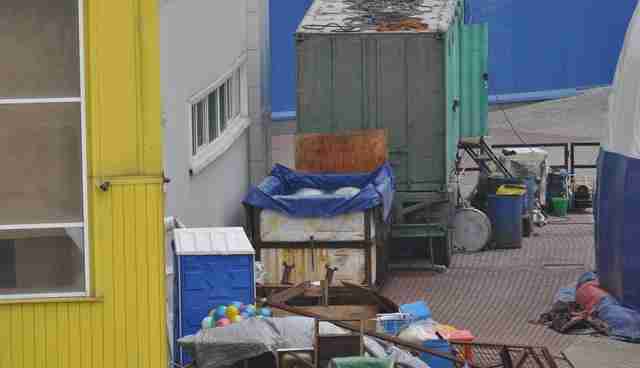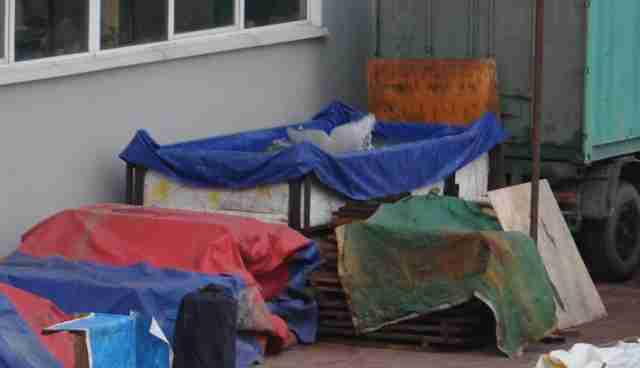 Such is the fate in Russia for these beautiful, intelligent marine mammals. The fact is that in Russia, anyone can buy a dolphin or even rent a dolphin and put it anywhere they want. EVEN IN THEIR BATHTUB! Such is considered normal and perfectly acceptable in Russia, while most countries in the world consider this kind of display or use of dolphins for entertainment as cruel.
What Other Countries Do Here is just a partial list of countries where the display of dolphins and other cetaceans in captivity is either banned outright or has strict legislation in place:
Costa Rica (since 2005)
Great Britain, Australia Belgium, Germany Greece (Athens, 2011)
Israel (display or use of dolphins for entertainment is prohibited)
South Carolina, USA Colombia Brazil (display or use of dolphins for entertainment is prohibited)
Switzerland (since March 14, 2012 import of live cetaceans banned)
Argentina, Nicaragua Guatemala Canada (capture and exploitation of beluga whales banned; orca breeding banned)
Hawaiian Islands, Netherlands Antilles, Haiti, France Mexico, Maldives, Puerto Rico Croatia (ban on keeping cetaceans in captivity – since June 19, 2009)
Here are three things that Russian Government can do right now to take a leadership position on this issue:
First and the most important, provide strict enforcement of ban on illegal capture of dolphins in Russia. It's absolutely ridiculous that when poachers can capture and sell dolphins, nobody does anything about it. What kind of civil law is that?! Now is a perfect time to fix it! It's time to pass a national law for the whole of Russia that prohibits capture of marine mammals. What a magnificent way Russia can join with other countries to protect dolphins, beluga whales and orcas!
Second, ban the most inhumane type of "entertainment" for good. Traveling dolphinariums are considered as a thing of the past in most countries in the world. Russia is a civilized country, so it can and should do exactly what other civilized countries do. Not only is this the right thing to do, but It's the only thing to do.
Third, ban the import of dolphins from other countries and especially from Japan. Today, in Russia, there are no laws even slightly regulating the importation of dolphins. Thus, Russia is effectively supporting the massive dolphin slaughter in Japan where over 20 000 dolphins are massacred every year with many others kidnapped and sold to dolphinariums all over the world (including Russia). Just recently World Association of Zoos and Aquariums (WAZA) suspended the Japanese Association of Zoos and Aquariums (JAZA) since they acquire dolphins from the horrendous Taiji (Japan) dolphin hunt. WAZA also requires all members to adhere to policies that prohibit participating in cruel and non-selective methods of taking animals from the wild. All members of WAZA must confirm that they will not acquire dolphins from Taiji, Japan – Russia included.
Would Putin Save Orcas? The Dark Secrets Surrounding Dolphins, Russian Orcas
There are five simple, easy steps that YOU, TOO can take right now to help put an end to this cruelty once and for all.One simple and very powerful step that everyone can take is to stop buying tickets to captive dolphin shows. Every ticket to dolphins' shows that people buy only prolongs and ensures that dolphins will stay in their sordid little compartments with fetid water, perhaps forever.Go to DolphinProject.net and Take The Pledge To NOT Buy A Ticket To A Dolphin Show.Tell your children the truth about what is really happening to dolphins and orcas in captivity. Show your kids where to look on the internet for the truth about what the world knows, and what we as people can do to put a stop to this terrible practice.Every person with access to the Internet can also play a direct role to help stop this atrocity. It's very simple: Spread the Word! Share the Information set forth here with your family, friends, and acquaintances. Most people don't even know what they are paying for when they buy a ticket to dolphin show. People think those dolphins are happy because they seem to be smiling and splashing about. That "happy" look is just an illusion, and a tragic illusion, because that dolphin smile is a great deception. Became a voice for dolphins. We need you. The dolphins need you!Go to https://www.causes.com/campaigns/92695-defend-dolphins-orcas-and-beluga-whales-in-russia and sign the worldwide petition calling on Russia to join with the civilized world to put a stop, once and for all, to the awful practices that today result inside Russia in the worst treatment that captive dolphins and orcas face anywhere in the world.For more information go to http://savedolphins.net/dolphin-shows/. Find out right now about what YOU can do to end this mistreatment of these dolphins and orcas in Russia once and for all.To learn more about dolphins in captivity go to DolphinProject.net and MarineConnection.org